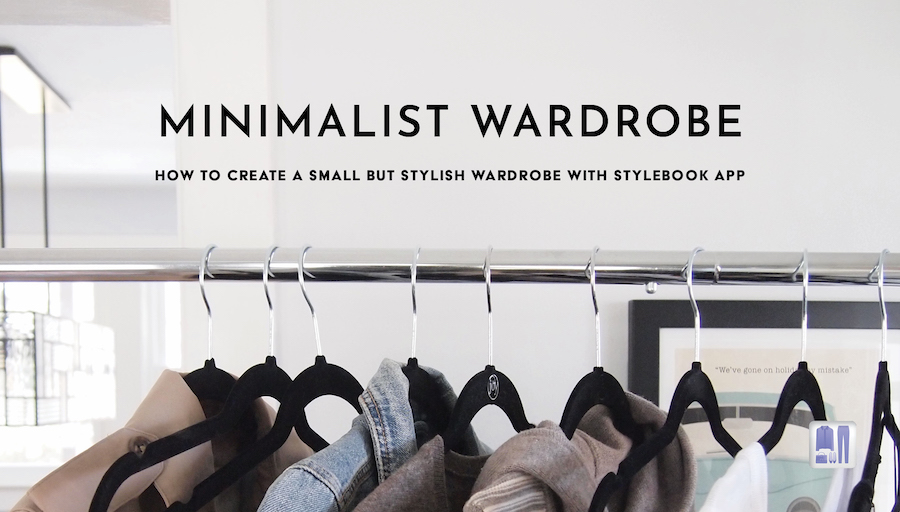 Minimalist Wardrobe: How Stylebook Can Help You Create A Streamlined Wardrobe
Stylebook can help you simplify your wardrobe and get more out of the clothes you own. Reducing wardrobe size is a goal for many women, and the best way to achieve that goal is finding what clothes fit your personal style and life. A successful small wardrobe isn't about reaching a magical minimalist number - it's about having a closet of clothes you actually use. It's also about breaking the trend cycle and overcoming challenges: like acquiring more clothes as a way to get a dopamine hit from shopping, constantly replacing poor-quality pieces or endlessly chasing trends without satisfaction.
Tracking your wardrobe with Stylebook will help you overcome these challenges and enjoy the clothes you already own. You don't need hundreds of pieces of clothing to feel connected to fashion, you just need what you love and will actually wear. The tricky part is figuring out what those items are. I believe the answer is already sitting in your closet and Stylebook will help you unlock that information by giving you a place to easily track what you own and how you use it.
I'm going to highlight a few Stylebook tools that will help successfully simplify your wardrobe and get the benefits below!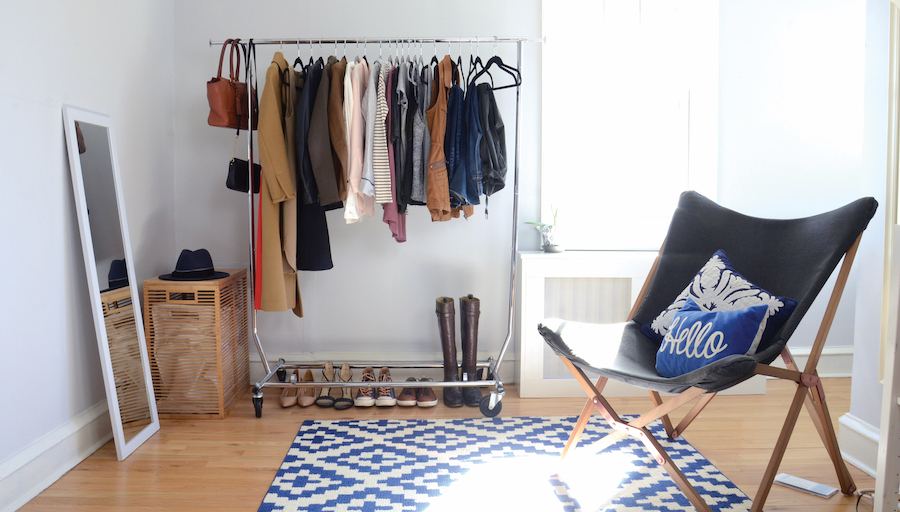 Benefits
Make the most of the clothes you already have
Reduce impulse shopping and shop intentionally
Get dressed quickly and effortlessly
Easily wear an outfit you actually like everyday
Focus on personal style and dress for yourself
How to use Stylebook to Start a Minimal Wardrobe
Rediscover What You Own - Even if you look in your closet and think, "I don't have anything I want to wear," you probably already own a decent amount of clothes that you like - they're just hidden in the clutter. Creating an inventory will help you see everything in one place and prevent pieces from getting lost in the closet. This process can really open your eyes to how many pieces you already have. This sobering number is a great way to curb future shopping. For example, I discovered I own 5 nearly identical plain black tote bags when I documented my closet. It's also a good quick cleanup method. Anything not worth documenting might not be worth keeping. If you come across clothes that are damaged, worn out, dated or haven't been touched in years, you have the option of culling them right away. It's easy to get started! Here are some popular inventory starting methods!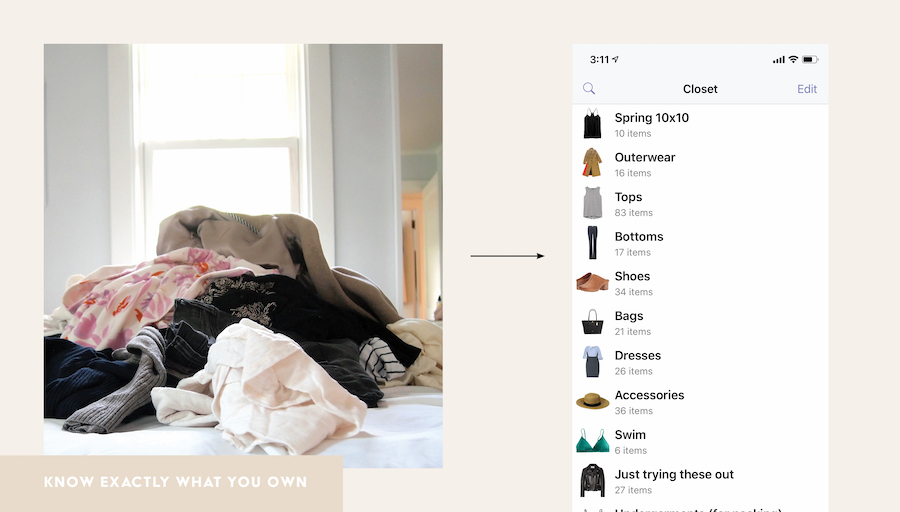 Waste Not - Don't blindly donate clothes to get your wardrobe to a magic "minimalist number." It takes time to figure out what works - and everyone's closet will be different. Stylebook will help you find the closet size that's right for you. Record your outfits on the Stylebook calendar for a couple of weeks and, after a while, look at your least worn or never worn items in the Style Stats feature, which Stylebook calculates for you automatically. This will help you identify clothes that aren't fitting into your personal style, even if you believed them to be wardrobe-worthy in the past. The data can be really surprising! For example, despite my obsession with dresses, I discovered I rarely wear my substantial collection when I tracked my wardrobe with Stylebook (you can read more about what I learned here).
Resist Shopping For Shiny New Things - It's tempting to feel as if a piece is "old" after wearing it a few times, but it may not be as tired as you think. People frequently overestimate how often they wear individual pieces of clothes, which is where Style Stats can help! Use the calendar and Stylebook will automatically calculate how often you use what you have. You may find you only wear items a handful of times before you want to discard them, a clue that you need to get more use out of them. I aim for 30 wears, and it actually takes a surprisingly long time to get there. Remember, data doesn't lie! Cost-Per-Wear is also a great motivator: challenge yourself to get your CPW under $1 before replacing an item.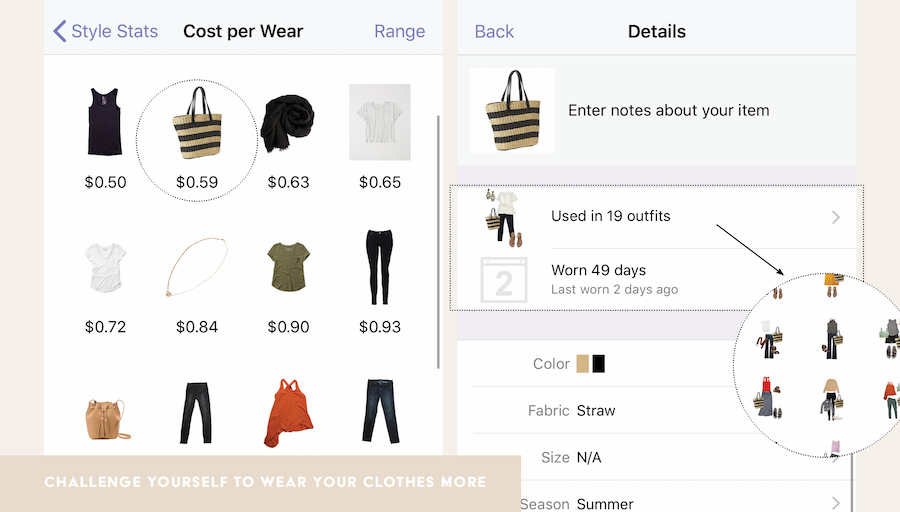 Stop Insta-shopping - Instead of shopping instantly when you see an amazing outfit on Pinterest or Instagram, aim to replicate the vibe of the outfit with what you have versus buying those exact pieces (@theminimalgrl is really good at this). Save the inspiration image in Stylebook with the Clipper tool, place it in the outfit editor and start building a look with what you have while using the photo as a reference. You may actually end up with an outfit that better suits you because you're using pieces that you already own and that fit you well. I did this when I really wanted to buy a jumpsuit: instead, I made a faux jumpsuit with a tank and pants.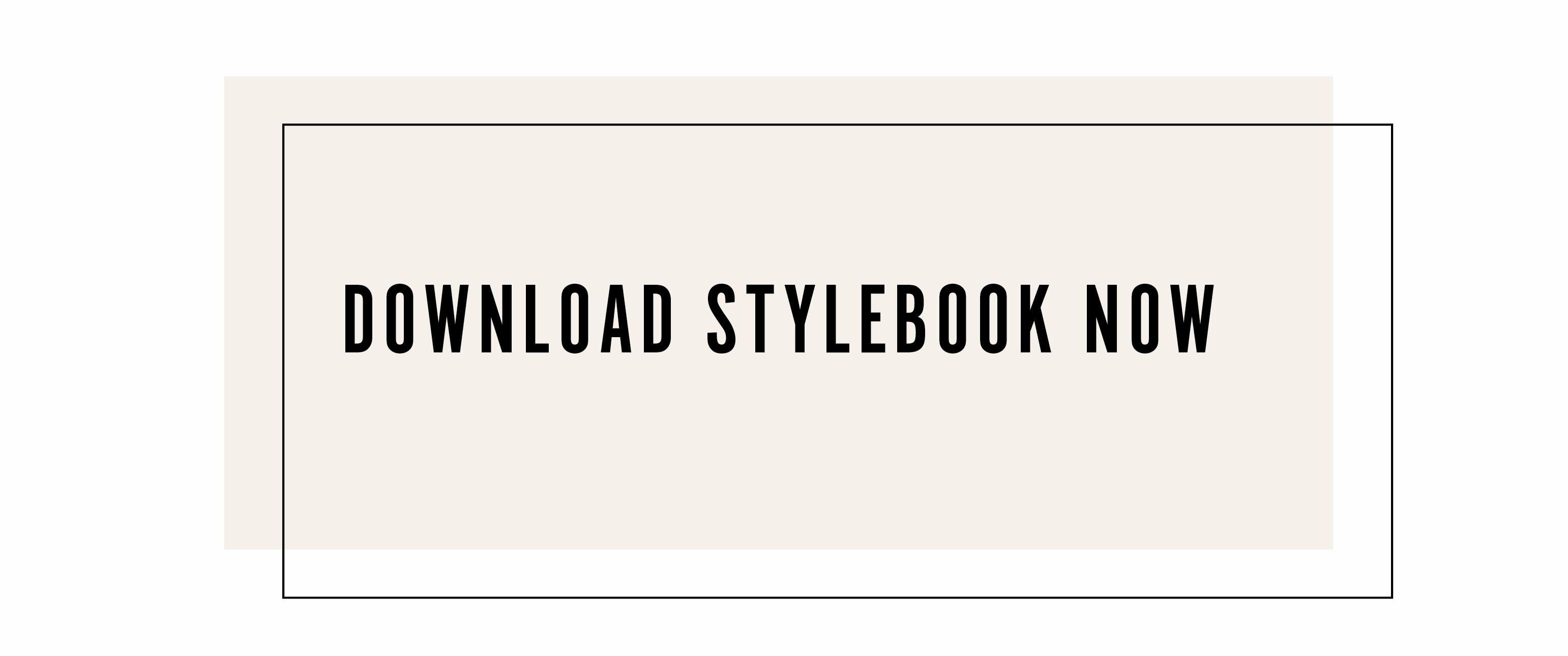 Plan for Variety - If you're worried that reducing your wardrobe will leave you wearing the same thing all the time, use the calendar to plan outfits in advance and space out what you have. The calendar is visual, so you can easily spot if the same top was scheduled too close to the last time you wore it. You can also check an individual item's or outfit's notes for the last worn date. Even with a tiny wardrobe it's possible to achieve variety. I always use the calendar to plan my #10x10challenge (10 pieces worn over 10 days) so I don't wear the same tops on consecutive days.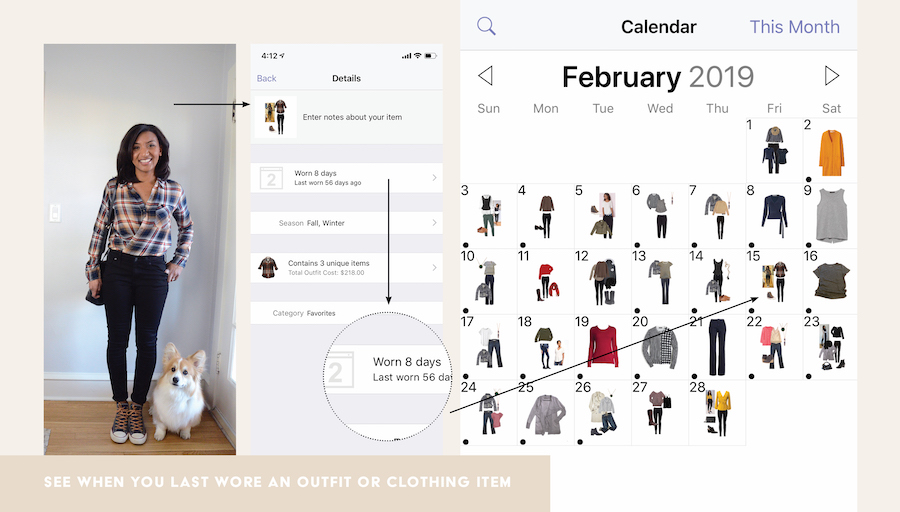 Refresh Without Clothes Shopping - Try remixing your clothes at the beginning of the season if you want a wardrobe refresh without shopping. Look for updated color combinations, styling tricks, new hair and beauty styles and outfit proportions. Just pairing what you own in new ways can totally refresh your overall look.
Check your least worn items and see if they can be styled or altered to get more wears. Maybe $2 worth of fabric dye can get you to wear that top stuffed in the back of the closet. @theconsideredcloset did this with a pair of mules!
Test a clothing piece in a variety of new combinations by tapping the Outfit Shuffle feature on the clothing item's page. It will create 10 new outfits for you!
Use the Clone feature to duplicate an outfit you like and swap out a few pieces to experiment with a new look.
Save styling and color inspiration into the inspiration library for future reference.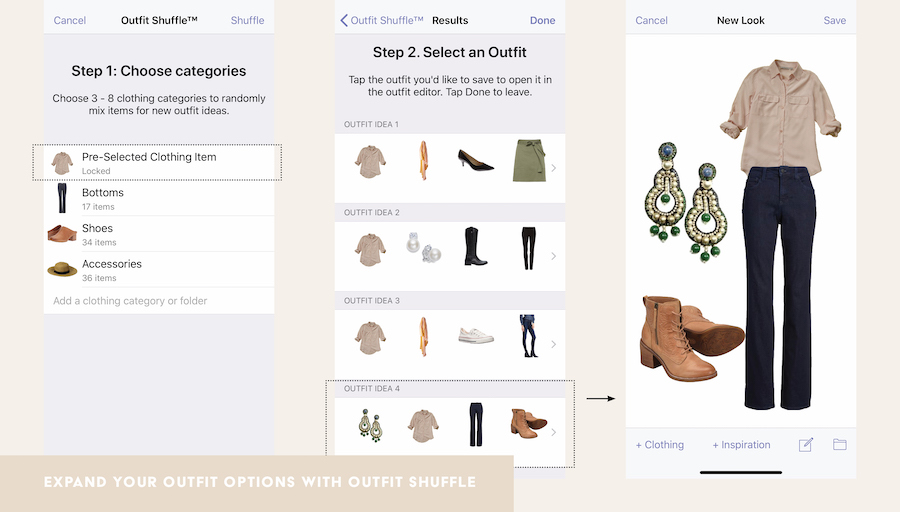 Don't Fear Outfit Repeating
When you feel amazing in an outfit, definitely save the look in Stylebook! These outfits are great to re-wear on days when you hate your closet - or whenever you want. Don't feel self-conscious about outfit repeating. I say, "Why fix what isn't broken?" Plus, you probably don't do it as much as you think. You can see the last date an outfit was worn on the outfit's notes page. You can also see your top 50 outfits ranked by number of wears in Stylebook Stats. My most worn outfit was worn only 6 times last year even though I actually enjoy outfit repeating. I have so many looks that they just don't get used that often.
Final Thoughts - How to Reduce Shopping
The final phase to breaking the trend cycle so you can stop shopping constantly is to get enjoyment from fashion in other ways beside shopping. Don't confuse being interested in fashion with being interested in clothes shopping. You don't have to buy the latest items or buy into trends just because you love clothes! Of course, we all shop from time to time, but if simplifying your wardrobe is a goal, then buying trendy pieces is only going to clutter your well-curated closet.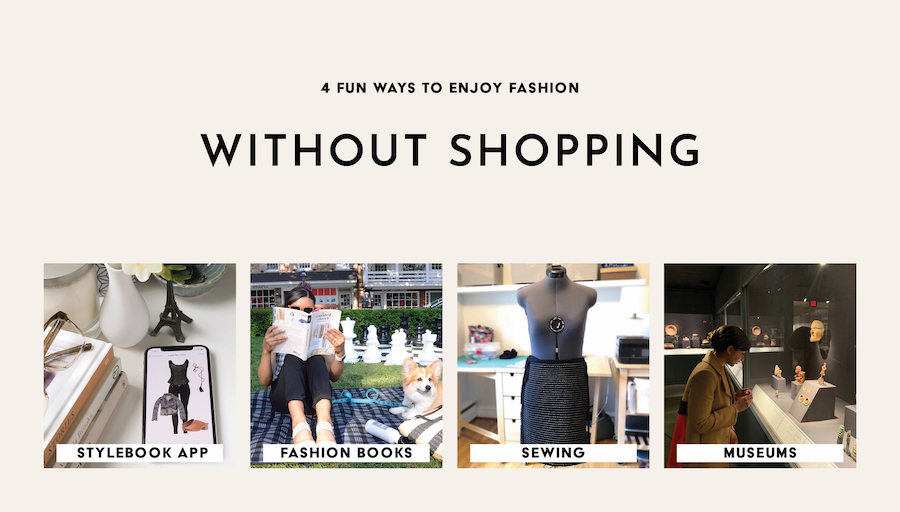 Track Your Style - Stylebook gives me a creative outlet to enjoy my wardrobe, and I have a lot of fun trying to make outfits inspired by my style inspiration images.
Read Books on Style - There are so many amazing books on wardrobe styling, fashion biographies, memoirs and designer monographs. I actually started Stylebook Book Club because I've found so many cool books on clothes that I want to share.
Go to Museum Shows - Everyone knows the Met Costume Institute and its annual gala, but there are fantastic shows on textiles, couture, everyday clothes, historical garments, fiber arts and more at museums and galleries around the country. Join the mailing list of local museums and galleries and go see some shows when they are around. These are a great source of style inspiration, too!
Watch Fashion Documentaries - Netflix and iTunes have tons of stylish movies and fashion documentaries. Some of my favorites are Valentino the Last Emperor, Grey Gardens and Strange Inheritance: Overdressed.
Sewing - Really slow down the shopping cycle by learning to sew! I know that may sound impossible, but I believe in you! Just a few years ago, I thought it would be impossible for me to learn how to make any clothes and certainly nothing good enough to wear in public. Now my third most popular "brand" in stats is "Jess Atkins Sewing and Knitting!" I took lessons at a local fabric shop and was able to make simple pieces after just a few classes. It has taught me so much about clothing quality, I can make pieces that actually fit my body, and it gives me a fashion outlet that doesn't involve constant shopping.
Clothing Challenges - Get creative with closet remixing challenges! There are free ones like Caroline Rector's #10x10challenge, which encourage you to get creative wearing 10 items over 10 days. If you have no idea where to start, there are a few paid ones that offer more guided options. Some help you mix and match a set of selected items - like those from Stylebook's partner Get Your Pretty On! They often use common pieces that you probably already own, and provide a community where you can get advice and discuss your choices.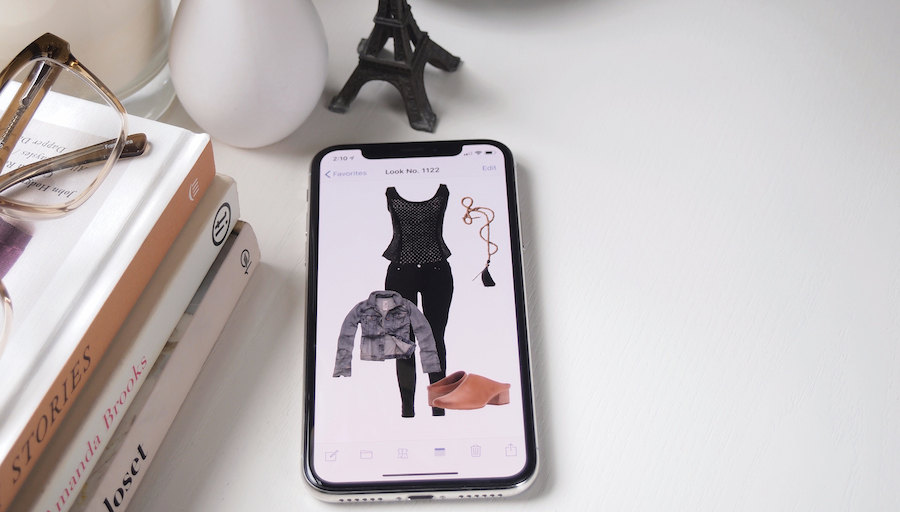 Stylebook's goal is to help you get your wardrobe to a point where it functions like a cohesive collection that can be easily mixed and matched. With my tips on how to take advantage of the app's tools and how to resist shopping, you'll be able to reach your goal of a minimalist wardrobe! Remember: there are only 365 days in a year to get dressed. So when you want to shop, ask yourself "How many clothes do I really need?"
NOTE: Posts in the Style Guides series include affiliate links to some of the products discussed. Stylebook receives compensation for purchases made through links to affiliates.
GET THE APP
Read More Style Guides