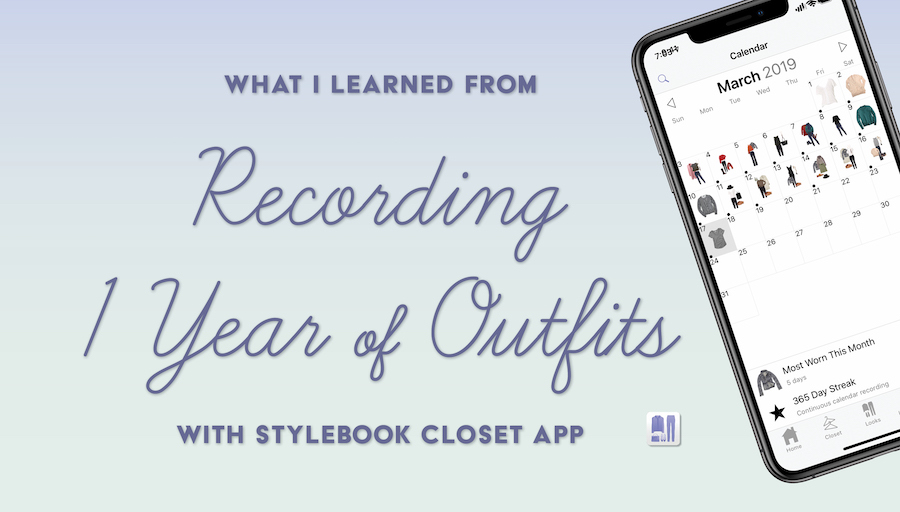 365 Days of Stylebook: What I Learned from my Outfit Calendar
Recording your outfits inside the app Stylebook can show you patterns in your wardrobe you'd probably never detect on your own. I just finished recording what I wore for an entire year - without any interruption - into the app. Although you'll start getting helpful stats right away, recording for an entire year helped me see long-term trends.
By looking at the stats Stylebook gave me about my fashion habits, I found clothes and outfits that fit me and my everyday life. Over my journey, I was able to easily spot patterns in my personal style because the app automatically kept track of what I wore and how often I used certain items. I got to see real closet data about my style - and it was often very surprising. In the past, I've been too caught up in trends or too busy trying to emulate someone else's style to notice what was really working for me. Seeing hard data about my wardrobe revealed the reality of how I dress everyday, and I was able to use that knowledge to build better outfits. Here's what I learned about my personal style thanks to Stylebook!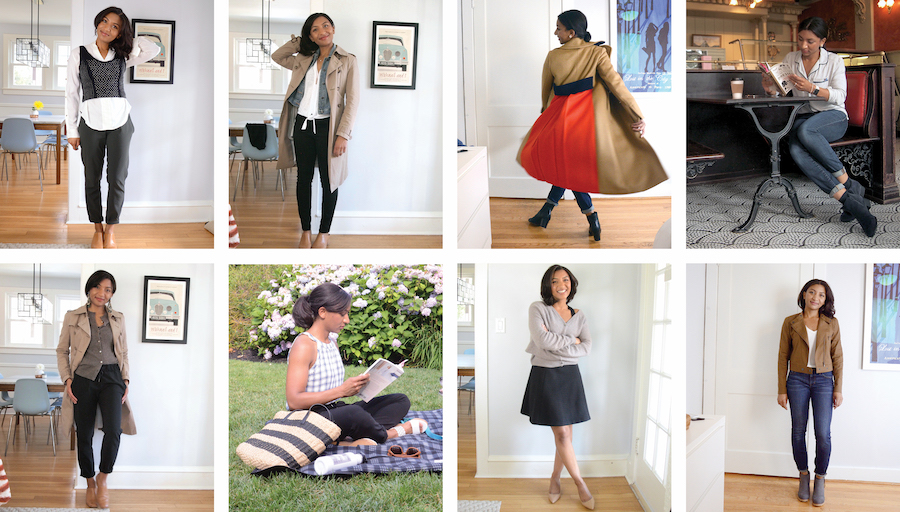 Some of my favorite outfits from last year
(Just in case you don't know, let me briefly tell you how Stylebook works: A while ago, I imported my wardrobe into the app and I've been updating it here and there as I add new clothing pieces. I save a lot of magazine-style outfit collages using the app's outfit editor, and then I use those ideas to get dressed and I record them on the Stylebook calendar. Sometimes, I just add individual clothing pieces if I don't want to save the entire outfit. If I know that I'm going to be very busy, I like to plan what I'll wear for the week on Sunday evening. I can't tell you how much time this saves me every morning. It's the best!)
What I discovered about my personal style
I Discovered a "Go To" Outfit - I looked at my "Worn History" statistic in the Looks section to see my most worn outfits. I discovered that the majority of my outfits conformed to the following formula: Jeans + Top + Layering Piece + Ankle Boots. This wasn't a conscious choice on my part, but clearly it works for me. I had a tendency to focus on my dresses, but now I'm going to use this as the basis for my own personal uniform. Since I know I feel really comfortable in this kind of look, I will work on improving it.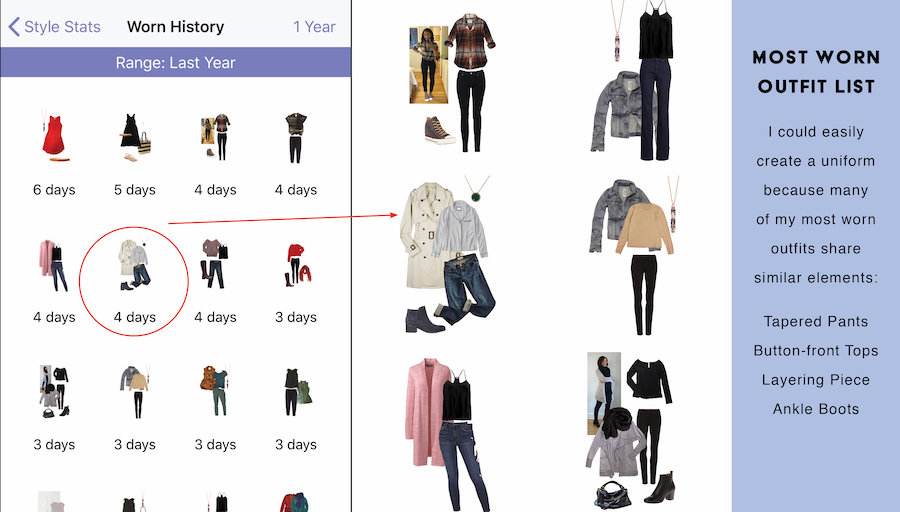 I Found My Colors - My closet color breakdown shows the majority of my closet is black, navy, beige and white. My most worn items are also in those colors - there wasn't a bright color to be seen in my most worn stats! I used to feel boring looking at neutral colors in the store, but it's what I like and that's okay. Of course, I can always incorporate a pop of color here and there!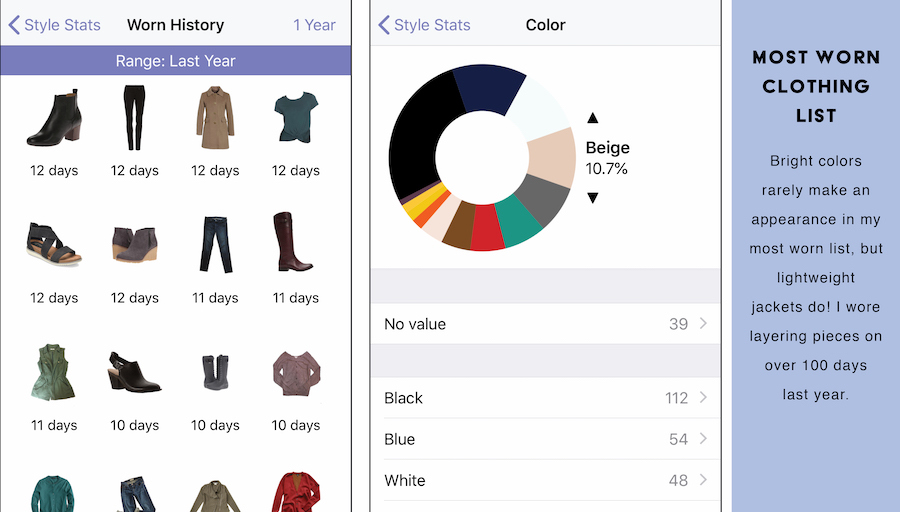 I Got Real about Alterations - While looking at the list of unworn clothing pieces under the "Never Logged on Calendar" section, I noticed some of the pieces are actually things I like, but they're in need of repair. For example, my tan and navy bag has a peeling handle that needs to be sealed. Sadly, it hasn't been used in 462 days because of that (an item's last worn date can be seen on the item's notes screen). I had no idea it was sitting my closet so long.
I Spotted Outfits with Potential - I'm not much of an outfit repeater, but I want to be! I always feel like I've worn my favorites too much, so I consciously try not re-wear them. From now on, I'll actually look at the last worn date for an outfit because, according to Stylebook, the most I've worn any look last year was only 6 times. When I have so many wonderful choices I already love, there is really no need for me to buy more clothes.
Shopping lessons I learned from the data
Choose Comfort - I should stick to walkable shoes. It wasn't too surprising to see that I wore comfortable shoes more. However, I was shocked to see that even mildly uncomfortable shoes got zero wears - absolutely none. I live in a walkable town, so I guess it's better to get a slightly less fashionable style that I'll actually wear.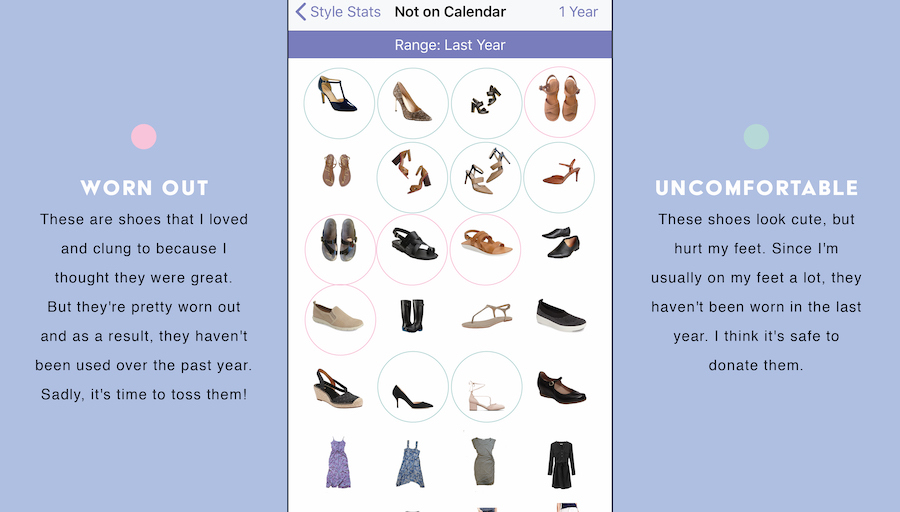 I circled interesting trends that Stylebook found
Shop for my Daily Life - No more party dresses! According to Stylebook, I have 27 dresses, which is actually pretty embarrassing. I wear a cocktail dress more than you might think - between showers and date nights, I get to dress up frequently. I thought this meant it was okay to justify buying one every now and then. However, I really have too many! I need to focus on casual, everyday styles, since special occasions are more than covered.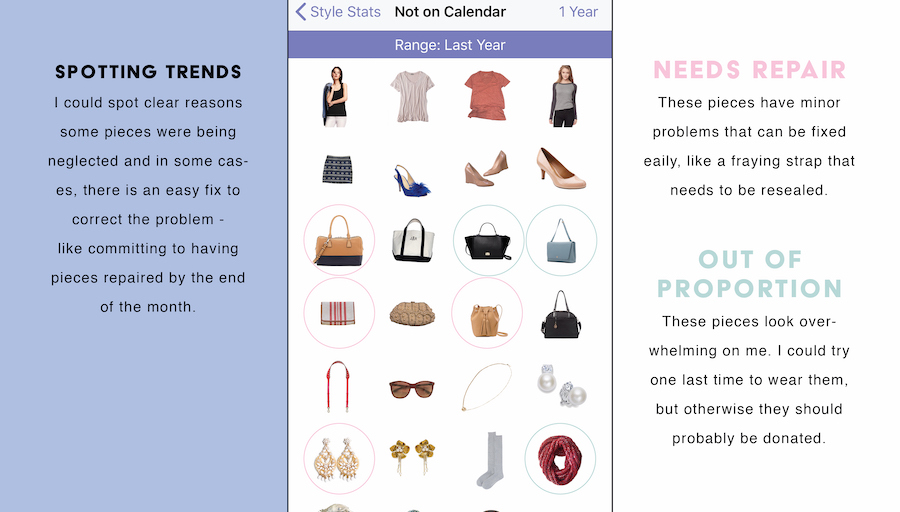 I circled interesting trends that Stylebook found
Pay Attention to Fit - The few tops that were never used are very fitted. Perhaps I can incorporate them as layers or donate them, but I won't be buying any more like that.
Proportion is Key - I need to stay away from oversized pieces. Oversized clothes and accessories rarely - if ever - make it into my outfits. I love the way a big, structured bag or blanket scarf looks on other people, which is why I bought pieces like that. But almost all the accessories that appear in my "Never Logged on Calendar" or "Least Worn" statistic fall into this category. The data proves they aren't for me - I haven't worn any of those pieces in over a year!
Now I dress for myself
Last year, I didn't see a lot of trends that I liked, but I no longer feel pressure to chase them because I can focus on my own personal style thanks to Stylebook. I love clothes, and keeping track of my wardrobe gives me the same sense of fun I used to have when I went shopping constantly. "When we buy something, we get a dopamine-infused feeling of novelty in the brain," says Anabel Maldonado, founder of The Psychology of Fashion (O Magazine, April 2019). Although I still enjoy shopping, I get a similar rush from mixing and matching new outfits and discovering more about my personal style through the data Stylebook generates for me. When I do shop, it's easier and less stressful because I can make more targeted purchases. It's exciting to look back at my wardrobe and discover what feels like endless possibilities. It makes adding new pieces more of an adventure because I want everything new to fit in with what I already have.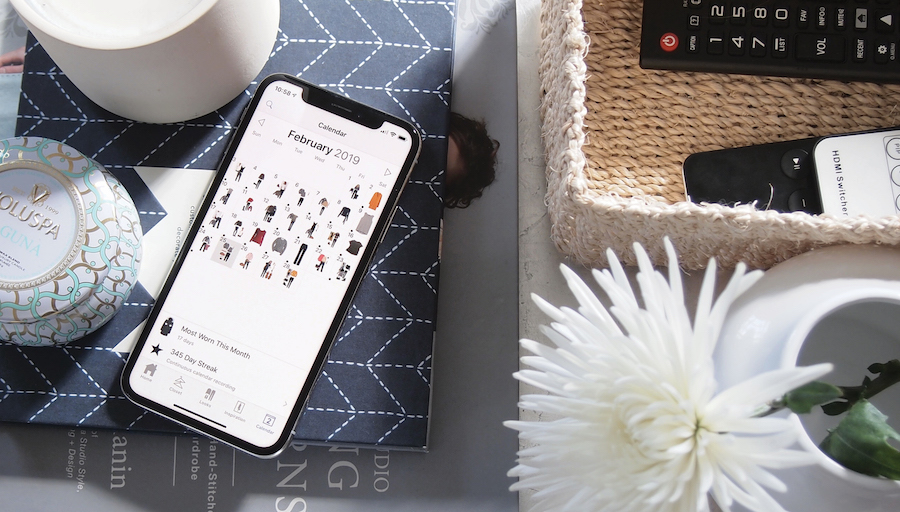 I want to encourage everyone to do the same and make personal style actually personal! There is no need to follow cookie cutter outfit formulas and suggestions if you're itching to break out into your own style. You don't have to dress like everyone else to feel connected to fashion. Some of the greatest fashion icons were mavericks of their time - that could be you, too! Follow your own trends and preferences to develop your look. Dress for you and no one else! Actually, I think Zosia Mamet said it best in Glamour:
"And "What would happen if you tried?" Maybe you spend 10 minutes in an outfit and hate it. OK: Change it, return it, give it away. Or maybe, just maybe, you feel awesome in it and you discover something new about yourself, a part of your style you had never let live. You grow. You enjoy fashion. Your fashion. Not someone else's. All yours."
- Glamour columnist Zosia Mamet is a star of HBO's Girls. Glamour Dec 2015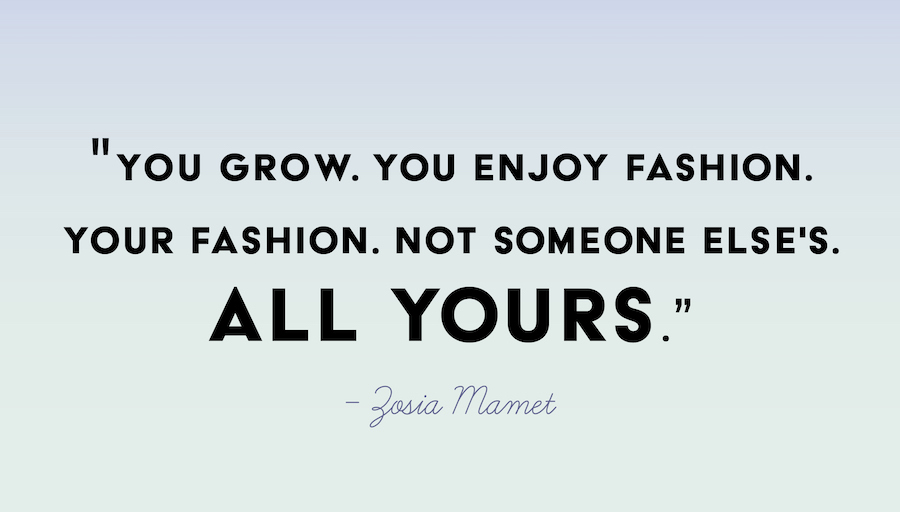 NOTE: Posts in the Style Guides series include affiliate links to some of the products discussed. Stylebook receives compensation for purchases made through links to affiliates.
GET THE APP
Read More Style Guides