Packing Lists: 8 Tips to Pack 20 Outfits in One Carry-on
For years, I was a notorious over-packer. Even if I was just traveling to visit a friend for a few days, I'd end up bringing enough clothes for a week and a half. Of course, it's not that I needed that amount of clothing - I'm just a worrier. I would bring an option for every "what if" I could think of. What if it rains? What if we get invited to a nice dinner? What if it's colder than I thought? And so on.
So I set out to make a formula to help reduce the size of my suitcase, while still being prepared for the many "what if" moments of traveling. To fit a wide variety of outfits into a small suitcase, you'll need to focus on versatility and color coordination. Below are eight steps to fit 20 different looks into your carry-on - with room for toiletries, too! I've found that planning and recording my outfits before I pack helps reduce what I bring without limiting my options.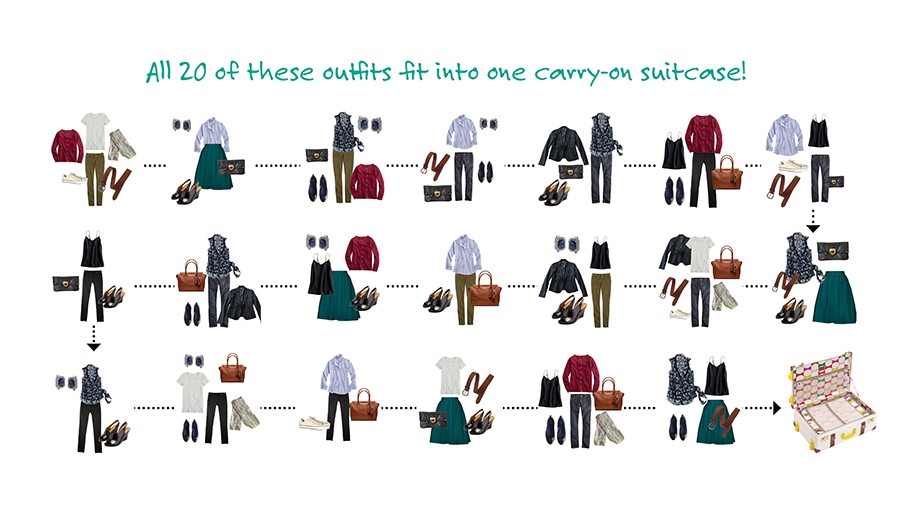 1. Think About Where You're Going and What You'll Be Doing - Check the weather forecast for your destination and make a short list of the activities you already have planned. Are you going to a wedding, will you be going out for casual dinner, or are you having cocktails at a hip bar? Creating the perfect packing list will depend on all of these factors.
2. Select A Color Palette - Choose a favorite item that you want to emphasize in your packing list. Then choose two other colors that compliment it well. These three colors will be your color palette for your packing list.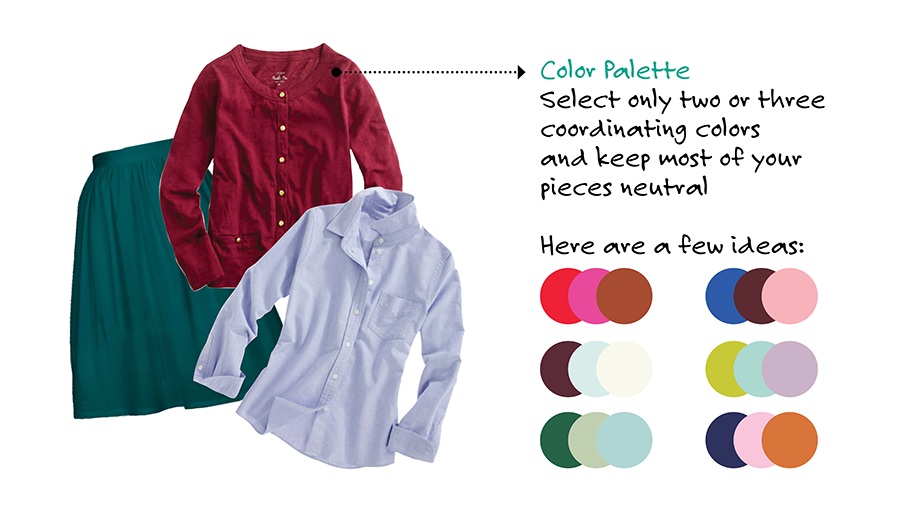 3. Create A List - Use our packing checklist as a guide while you're selecting items from your closet. At the same time, add the individual pieces into a new Stylebook packing list. Using your virtual closet is also a great way to plan what to pack without having to wait until you're at home. Stick with clothes you already know and love - a trip is not the best time to experiment with a new shape or fabric, since the item may end up being uncomfortable.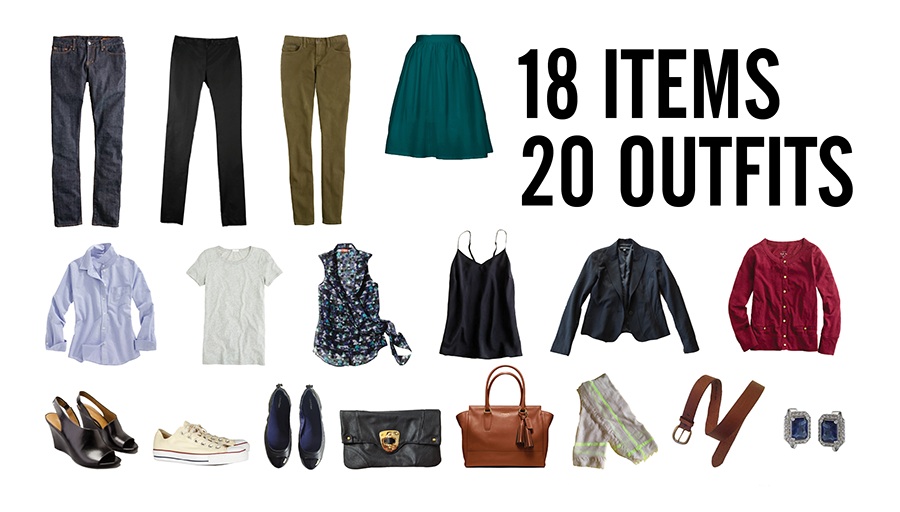 pants - J.Crew, skirt - Bow and Drape , chambray shirt - Madewell , t-shirt - J.Crew, bow blouse - Target, tank - J.Crew, blazer - Lafayette 148, cardigan - J.Crew, wedge heals - Franco Sarto, sneakers - Converse, flats - Calvin Klein, clutch - Urban Expressions, tote - Coach , scarf - Target, belt - Army Navy Store, earrings - Carolee
Essential Tips
All of the tops should coordinate with all of the bottoms you pack
All outerwear items should match all tops and bottoms. In the example list, your cardigan and blazer should match everything else.
Layering is a great way to get lots of combinations from just a few items - make sure your tops are thin enough to layer and have coordinating colors
Bring a belt that has enough holes so it can be worn at either the waist or the hip
Bring at least one piece of jewelry that can dress up your looks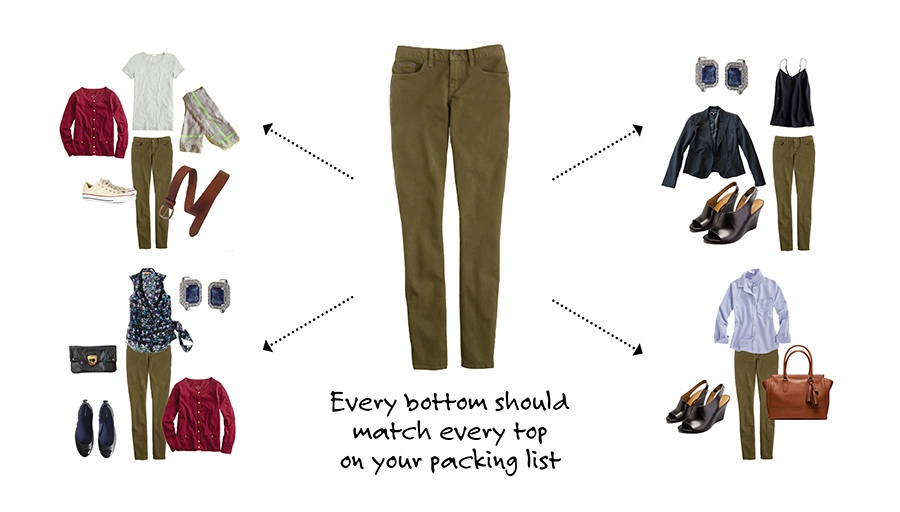 4. Record Outfit Ideas - Open the Looks feature in Stylebook and create as many outfits as you can using only the items from your packing list.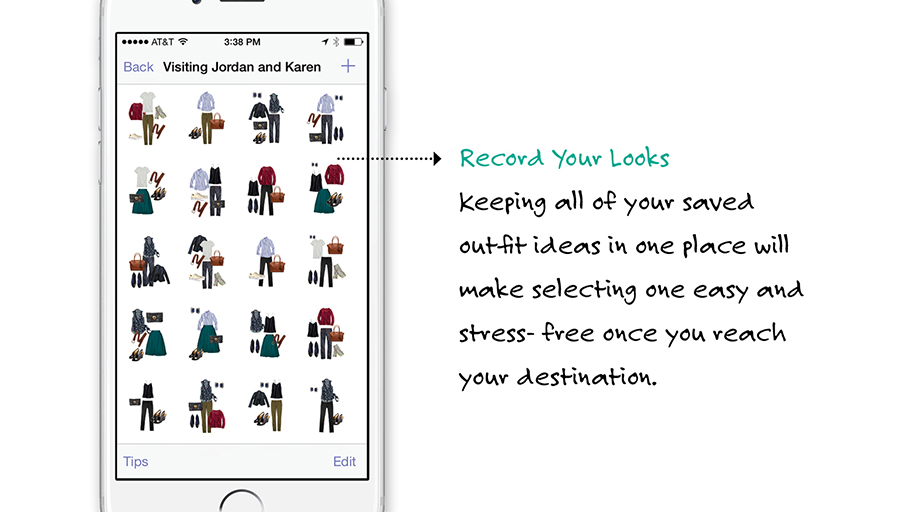 Essential Tips
Mix and match everything! If your colors coordinate and the pieces are thin enough for layering, you should be able to come up with a ton of different combinations.
Make sure to reference your activities list so you have outfits for everything you plan on doing. Start with items that are essential for an activity and then build the outfit from there. For example, if you're going to be walking all day, start with your sneakers and build your outfit around that.
Use styling tricks to change the appearance of your tops - belting, tying, or tucking a blouse can make a huge difference! Audrey of the blog Putting Me Together has excellent styling tips. Record your styling ideas in the notes so you don't forget them.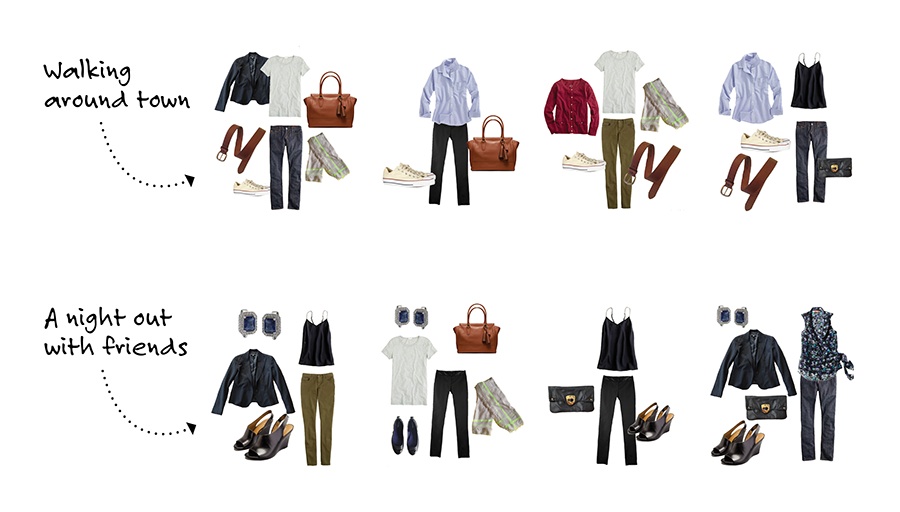 5. Organize - Save the outfits you created into your packing list by opening the list in the packing feature and selecting "+ Look" on the lower right. Keeping all of your saved outfits in one place will make selecting one easy and stress-free once you reach your destination. You can also add styling notes here.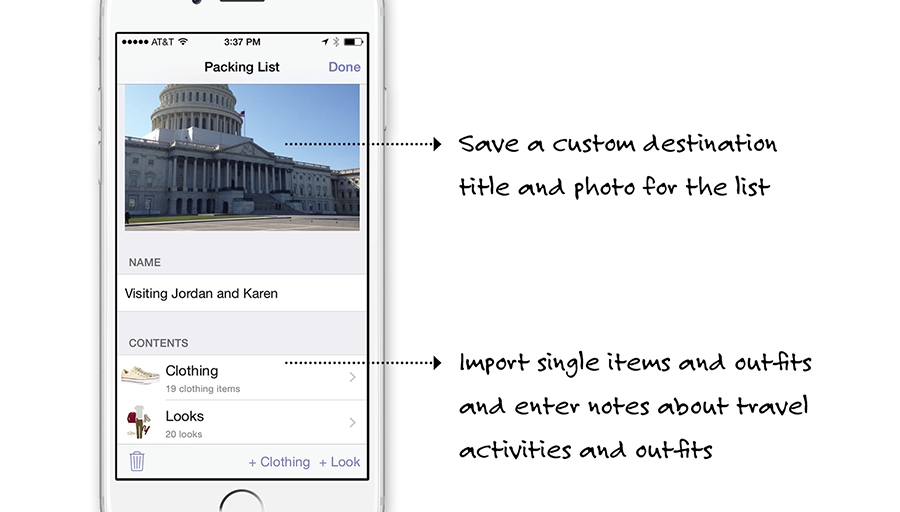 6. Schedule - Open the calendar and add your first outfit selection for each day based on activities. If you're repeating items, don't forget to account for laundry time if you plan on washing some items. You can use the calendar notes field to describe what each outfit is designed for.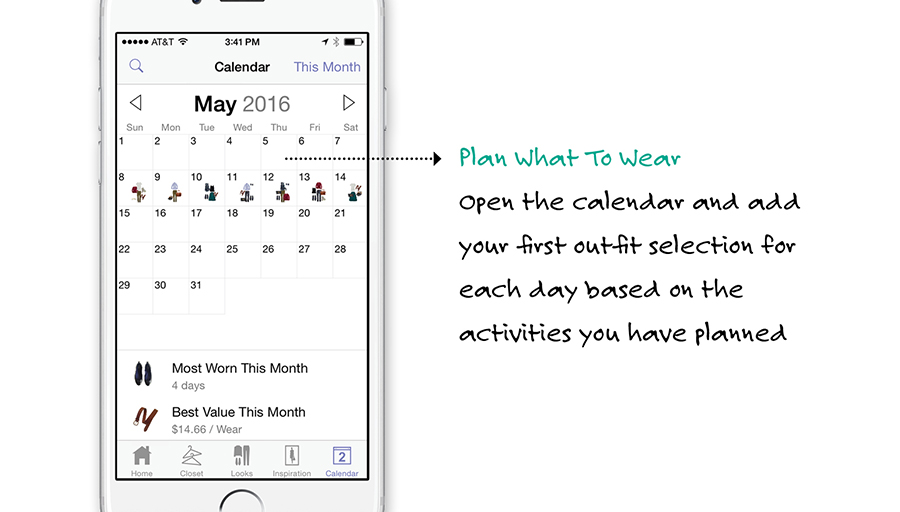 7. Try It On - If you have time, try on your first-choice outfits before you pack to make sure you're comfortable with them.
8. Pack - We've collected a ton of articles on how to pack your clothes so everything fits with room to spare.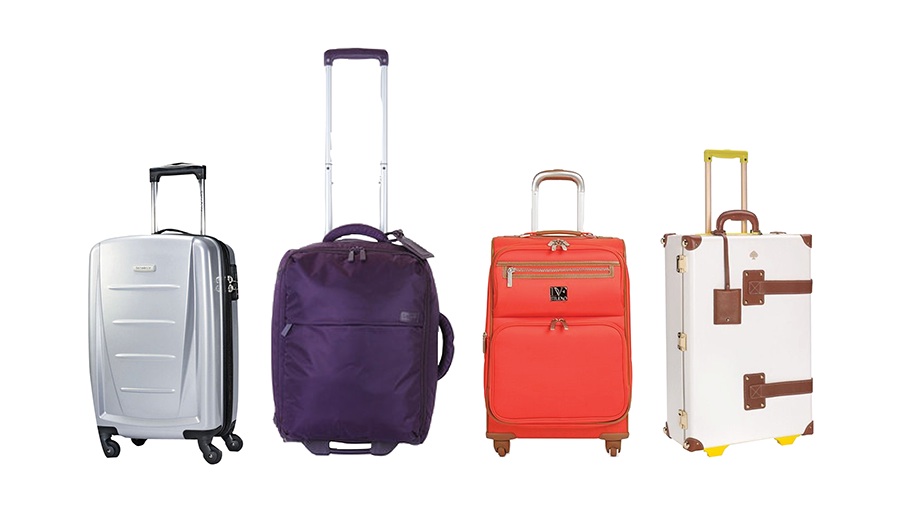 silver - Samsonite, purple - Lipault, orange - Diane von Furstenberg, white - Kate Spade
Stylebook Packing Check List
Tops (4)
Neutral Print Blouse (e.g. stripes, small florals, or a neutral color work best)
Button-Front Blouse
T-shirt
Fancy Tank (e.g. a silk cami or a tank with nice beaded details)
Bottoms (4)
Dark Jeans
Skirt
Black Trousers
Color Jeans (make sure they match all of your tops!)
Outer Layers (2)
Blazer
Cardigan
Shoes (3)
Ballet Flats
Comfortable Heels
Converse
Bags (2)
Clutch
Large tote or satchel
Accessories (3)
Gauzy oversized scarf (with a hint of color)
Jewelry (consider a necklace or earrings that can dress up your outfits)
Belt
NOTE: Posts in the Style Guides series include affiliate links to some of the products discussed. Stylebook receives compensation for purchases made through links to affiliates.
GET THE APP
Read More Style Guides