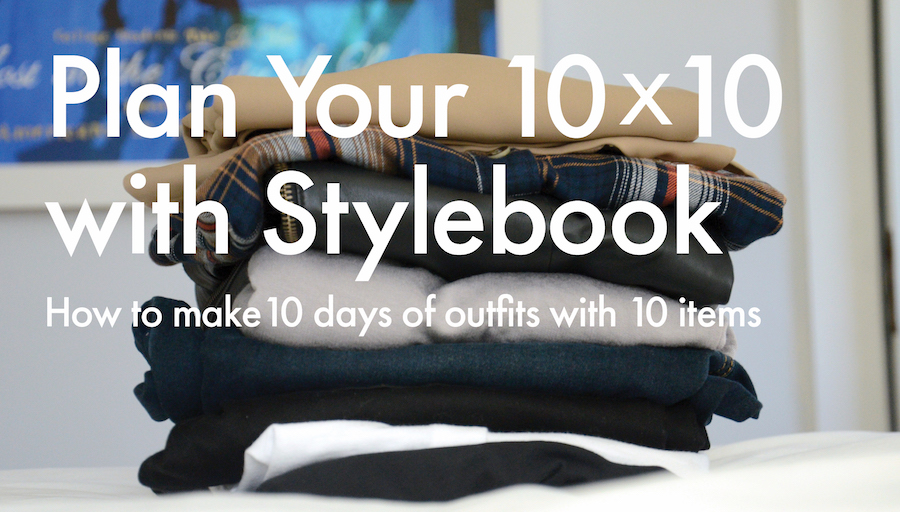 10x10 Challenge: Create 10 outfits with 10 items of clothing inside Stylebook!
The 10x10 is a wardrobe challenge created by Style Bee and Un-Fancy that involves wearing only 10 items of clothing for 10 days. It's an excellent way to get creative with your current wardrobe without shopping and an easy way to start your Stylebook closet. I've personally done the challenge a couple times and had so much fun I wanted to share it with you too!
For those just starting, I'm going to show you the fastest and easiest ways to add clothes to your Stylebook closet by showing you my personal 10x10. After you come up with your 10 outfit ideas, Stylebook is the perfect to way to save your outfits so you can make sure you actually use them again!
How To Pick Your 10 Clothing Items
Look in your closet for a variety of tops and bottoms in a coordinating color palette. I like to find my colors by starting with my favorite item of the moment, which happens to be a tan-and-black plaid button-down. I usually don't count my shoes and accessories in my total of 10 items.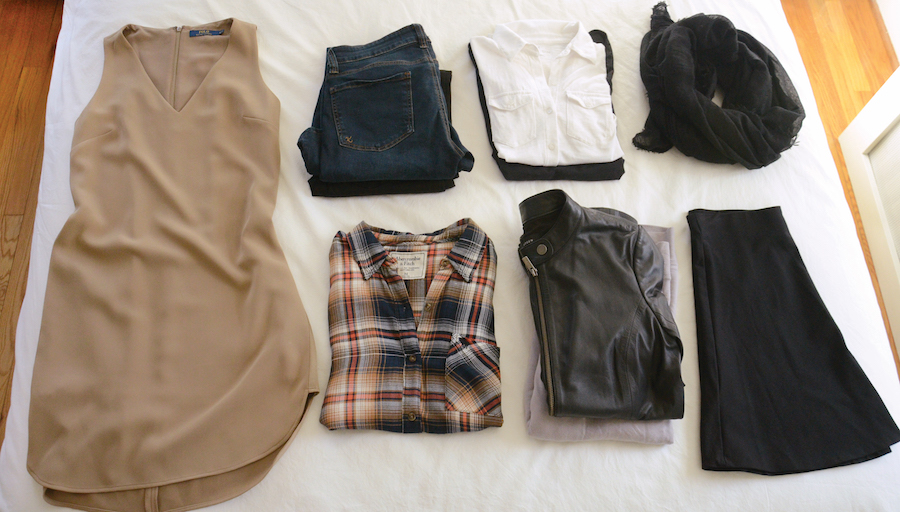 How To Import Your Clothes
There are several options for importing your 10 items - choose whichever one is best for you! You can also try a combination. For example, I use the Shop feature to add photos jeans, shoes, bags and recent purchases. I then photograph the rest myself.
Shopping Feature - The fastest way to import your clothes is to add images from the almost any store using the Shop feature inside Stylebook! Open an item in the Shop feature, then press the "+ Clip" button to add it to the closet - it's that easy! Here's a tutorial.
Copying and Pasting Images from Your Mac - Use the universal clipboard to copy a photo on your Mac and then paste it right into Stylebook on your iPhone or iPad. See a tutorial for more information.
Photo Setup - If you take flat-lay pictures for Instagram then you already know that styling and good lighting are the key to great pictures. In bright natural lighting, lay your clothes on a solid color surface like a bed sheet or bulletin board paper. The background should be a completely different color from your clothes. Wipe off your camera lens with a soft cloth to prevent blurry pics and press the "+" on the home screen to start taking photos. You can read detailed tips here.

Remember the point is to have fun. You don't have to lay clothes perfectly. Experiment with folding your clothes in playful ways! Remember that you're not striving for catalog-worthy photos - those are professionally styled and photoshopped. Plus, you can always use the Replace Image feature to take better pics later!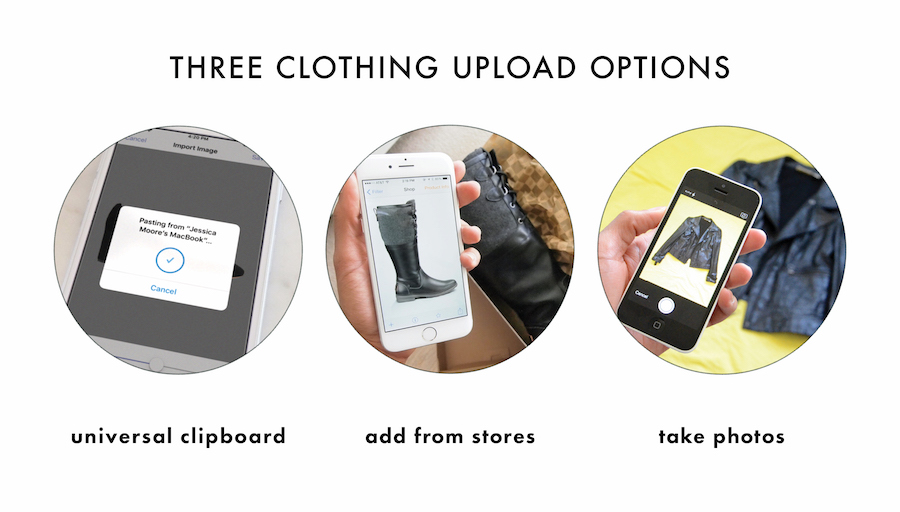 Create a Custom Folder
When I'm working on a capsule, I like to move my clothes to a temporary folder with the name of the capsule. This makes it easier to find the pieces when I start creating outfits. To make a new folder, open the closet, tap "Edit" on the upper right and add your "10x10" folder and the subcategories you want!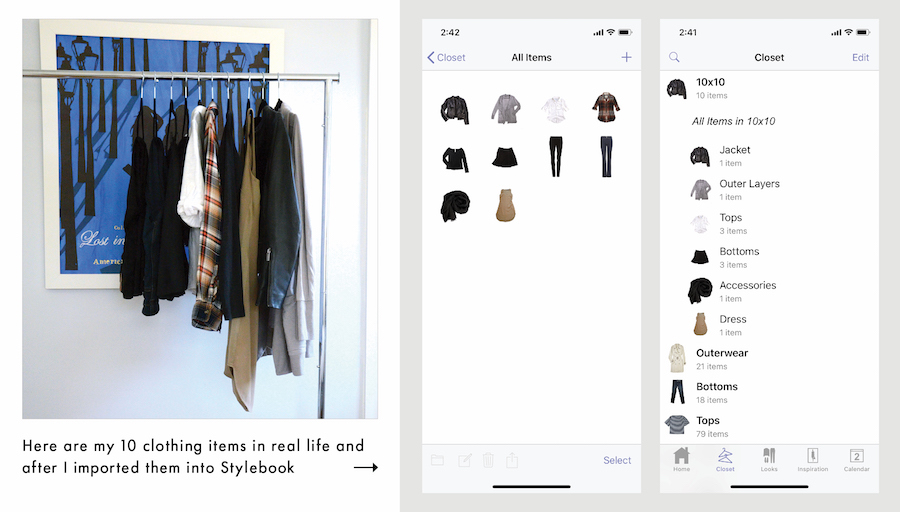 Remix Your Choices and Save Your Outfits
Congrats! You've now added enough clothes to make your outfits for the next 10 days!
Now you can start collaging your outfits and playing with remixing different combinations. Let Stylebook suggest outfits for you with the Outfit Shuffle feature or make your own with the Looks feature! There is something fun about rearranging little miniature photos of your real clothes into outfits. I like to make all of my 10x10 outfits the first day, but you can also create them as you go along.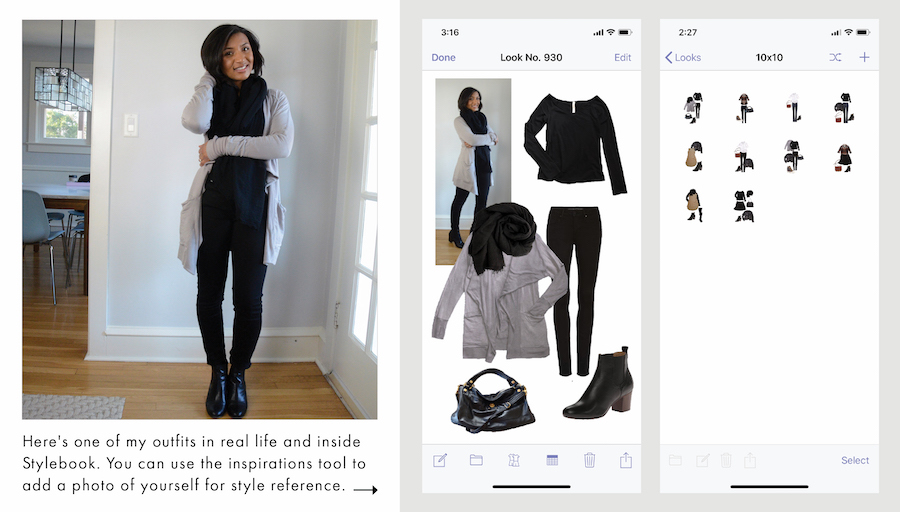 Styling Tips
Here are a few styling tricks I used to create 10 looks with my 10 picks. This is where Stylebook will come in handy because you can mix and match combinations right on the phone.
Fake a dress - Wearing a top and skirt that are the same color can make them look like a dress when they're worn together
Go Matchy Matchy - Balance your top by wearing shoes that mirror some of the same colors.
Look Taller - Wearing boots the same color as your pants - or bootcut jeans with a low heel - can help you look taller than you really are.
Layer - Try layering with different-length pieces. For example, I layered a long cardigan under a short jacket and pulled the cardigan collar over the jacket to add a little interest.
Add Texture - Try adding textured accessories like my basket bag to a basic outfit.
Cuff and Tuck - You've probably heard it a million times, but cuffing your jeans or tucking your button-down like a wrap can give the pieces you already have new life.
Remix A Dress - Experiment with layering pieces under a dress.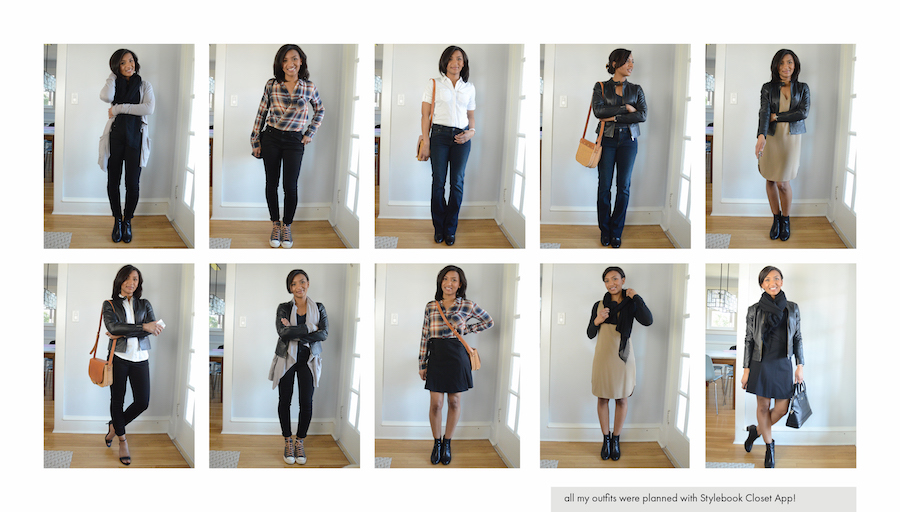 Plan What To Wear For The Next 10 Days
Now that you have a bunch of outfit ideas, you can add them to the Stylebook calendar. A lot of Stylebook users like to do this on the weekend to save time in the morning the following week. That means you don't have to think about what you're going to wear at all in the morning! If you plan your looks in advance, there's even an option for the app to send you an alert every morning with your outfit for that day.
Open the calendar and tap a date to add a look. You can add outfits and even individual items to the same date (this is great for adding your coat or bag separately so you don't have to recreate outfits because of small differences). As you use Stylebook more, the app will generate statistics about your wardrobe and you'll gain valuable insights into how you use your clothes. I know over time I've been surprised by what items in my wardrobe really get worn the most. Using stats like cost-per-wear, you may even find out if an "investment piece" actually paid off.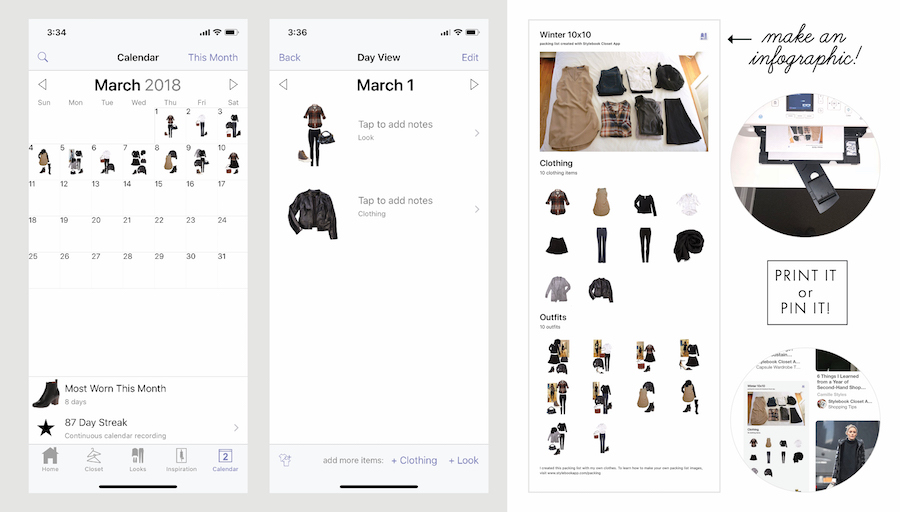 10x10 Recap
I hope you had fun starting your Stylebook closet! The 10x10 proves you don't need an enormous wardrobe to give yourself some variety and, thanks to Stylebook, you'll be able to remember all your amazing outfit ideas whenever you get dressed.
Now that you've got the hang of it, you can begin adding the rest of your wardrobe so you can take full advantage of Stylebook's features! This is a great time to look back on your wardrobe and think about how it's working for you. If you still have mountains of clothes that haven't seen the light of day in the last six months it's probably time to do a closet clean-out! As you add the clothes to Stylebook, use it as an opportunity to purge what you don't need. A great wardrobe is all about quality, not quantity!
The faster you get started, the sooner you'll be able to get more out of the clothes you own and improve your personal style!
See how other users took the 10x10 challenge with Stylebook:
Bonus - Make Your Own Printable and Pinnable Infographic
You can create a pinnable infographic of your outfits and clothes using the packing list. Here's how!
Stylebook's Benefits
Wear the clothes you have more
Look at your wardrobe anytime - even while you're out shopping
Add styling notes or a photo of yourself to an outfit
View your least-worn items to get help cleaning out your closet
Pack by outfit to save suitcase space - the app will generate a packing list
Plan what to wear in advance and sleep a little later
Look up outfits by clothing piece
Figure out what to wear from bed
Are you thinking about starting a Stylebook closet, but don't know where to begin? You can see how to follow all the steps in this tutorial by watching our Getting Started video.
NOTE: Posts in the Style Guides series include affiliate links to some of the products discussed. Stylebook receives compensation for purchases made through links to affiliates.
GET THE APP
Read More Style Guides