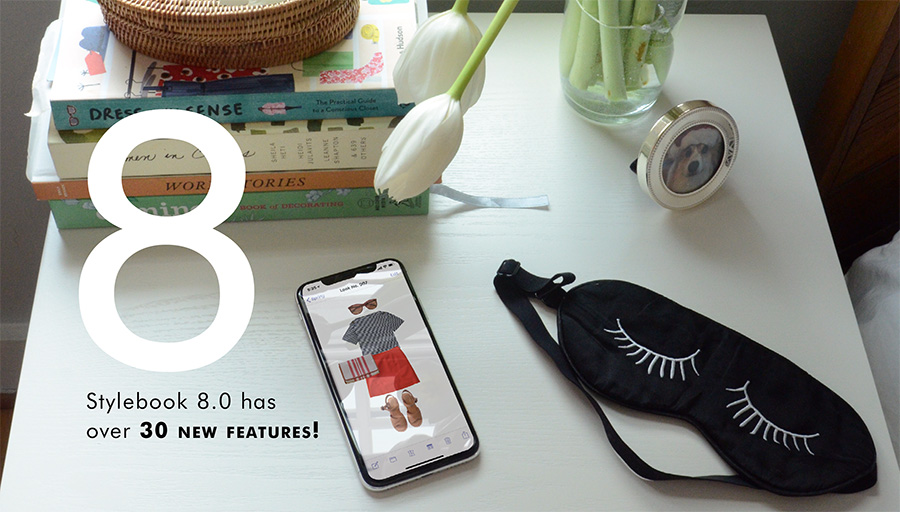 Stylebook 8.0 - The Details On Stylebook's Latest Update
Stylebook 8 has arrived! Have fun seeing your wardrobe in a new light with more stats to reveal more about your personal style. Show off your hard work with gorgeous new shareable infographics and tailor your virtual closet to you with new size tools. Plus, you can manage your wardrobe more easily with new tools to make adding outfits and items more efficient. And these are just some of the dozens of new features in the latest edition of Stylebook!
And stay tuned - we have lots more planned for 2018!
Support for new screens, including the iphone x
Updated for the iPhone X!
Support for the 10.5"- and 12.9"-inch iPad Pro
Style Stats
All Top 25 stats have been expanded to 50 items
Pie chart breakdowns of your closet by color, fabric, brand, price and more
Limit Style Stats screens by time period; for example, see what you wore for the last seven days or last 30 days
Avoid seeing old items by changing the time period for a stat
Easily browse your closet by color, fabric, brand, price and more.
New stat: 50 Most / Least Expensive Items
New stat: 50 Most Packed Items / 50 Most Packed Outfits
Calendar
Create a new outfit from individual items recorded on a calendar day
Move and copy clothing and outfits between days
Calendar tracks your longest streak of uninterrupted recording
Tap the share button to a see a shareable infographic of any month
Optional morning reminders of what you've scheduled for that day, plus nightly reminders to log what you wore if the day has no entries
Swipe across the calendar grid to quickly navigate between months
Packing Lists
The checklist now saves your checked items, so you can leave and come back while packing
Stylebook can generate beautiful infographics to share your packing lists on Pinterest and other social networks
Generate and print packing checklists
Zoom in to Thumbnails
See larger images of clothing while creating an outfit by using 3D Touch to zoom in on an item
Use 3D Touch to zoom in while browsing your closet, inspirations, outfits, calendar or the shopping catalog
More Efficient Outfit Editing
Fewer taps to add items to an outfit
Easily go back to the category list if you change your mind while adding an item
Outfit Shuffle™ Improvements
Generate an outfit by shuffling from a single item
Access Outfit Shuffle from the main Looks tab
Outfits
See the total cost of an outfit on its notes screen
View a list of the individual clothing items in an outfit
Shoppinfg
Option to include or exclude pre-owned clothes in the filter screen
Estimate cost-per-wear with the new CPW calculator in shopping item details
Your favorite shopping brands, stores and categories are now grouped separately and sorted alphabetically
Closet
You can now search by size
Previously entered sizes are visible when editing a clothing item's notes
Brand, fabric and size show a list in the Closet search screen
Continuous Import now works for photo albums on both the iPhone and iPad
Wear History now shows the day of the week for each entry
Other
The inspiration notes screen now shows all the outfits that use that inspiration
French translation now available
Performance Improvements
Faster and more responsive performance throughout the app
Faster startup
Special performance improvements for working with very large closets or categories
Bug fixes
To see a full of list of the Stylebook 8.0's new features see the description in the App Store!
GET THE APP