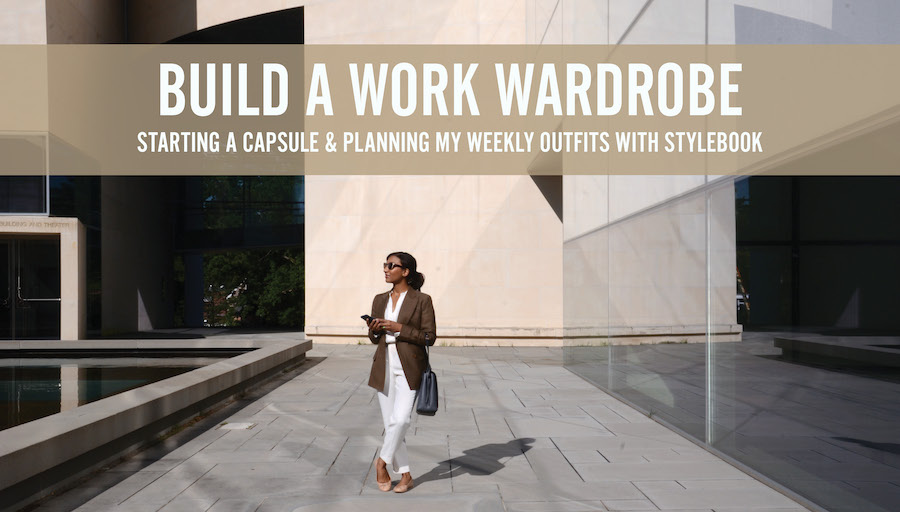 5-Step Work Wardrobe: Starting a Capsule with Stylebook
Here's how I created a work capsule and planned 3 weeks of work outfits using Stylebook. Working with a budget of less than $100, I combined new and thrifted pieces with what I already had to make 24 outfits using 19 pieces - more than enough looks to give myself a different outfit for every workday in a month!
1. Take Inventory
First, I had to see what I already had that could be used in my work capsule. I looked in my Stylebook closet inventory for anything office-appropriate and I re-filed those 15 items to a custom folder called "Work Clothes." It helped me easily analyze my current wardrobe so I could shop efficiently.
If you haven't already, I recommend adding your existing work clothes to Stylebook, for the same reason. You probably have a few good basics you can build on, and knowing what you own will save you time and money.
2. Analyze What You Have
After I completed my inventory, I looked at the grid of all my work clothes (above) to see what I was missing or if I could easily spot any patterns. My "Work Clothes" folder revealed I was lacking a good selection of bottoms and outerwear. I also noticed I clearly had a color palette of neutrals and edited out anything that didn't fit. I recommend using the most popular colors in your initial clothing edit as the basis for your capsule color palette. Even if it's something boring, you can always spice it up with an accent color. I have a few outfit color palettes below.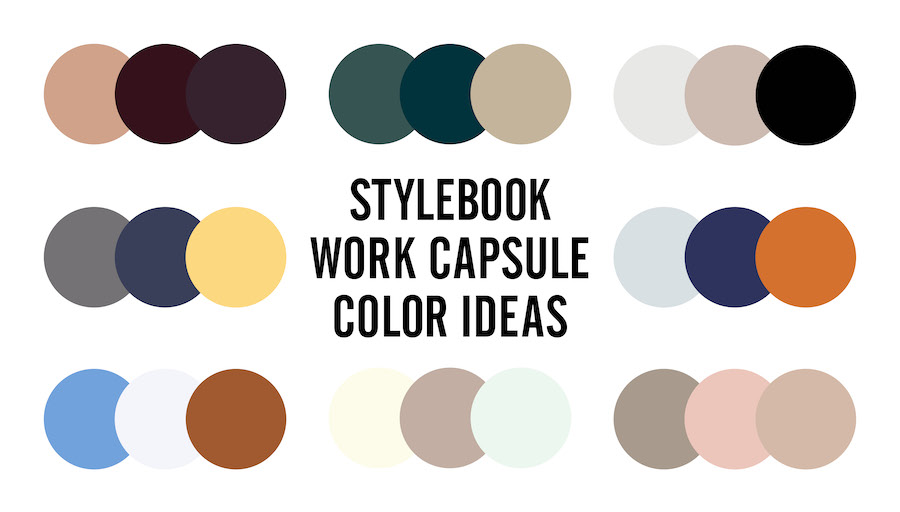 3. Select Capsule Pieces
Once I had my initial group of items, I set out to enhance the clothes by shopping for a few new items. I wound up adding 4 pieces to my initial list of 15 items. I kept my Stylebook inventory with me while I was shopping to make sure my new items fit in with my capsule. I settled on 19 total items in my capsule but you can have more or less - it's up to you!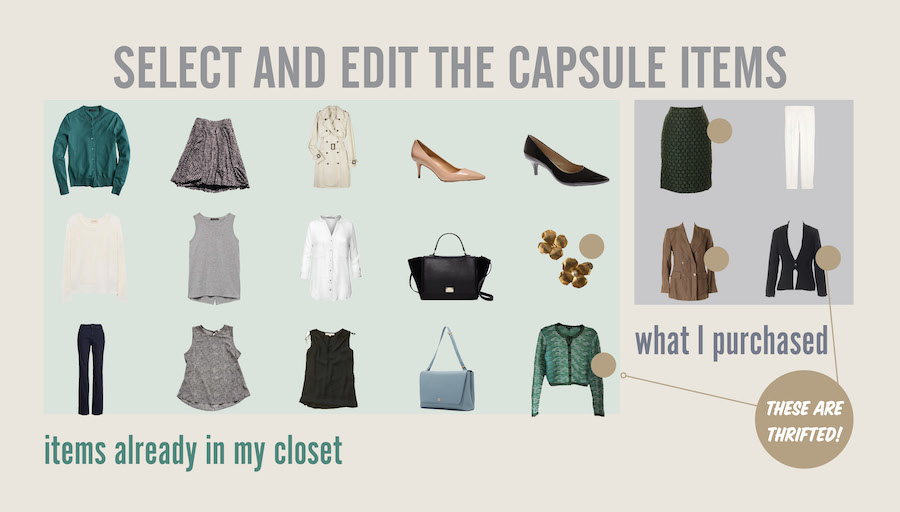 How I Chose My Clothes:
Proportion - I made sure the pieces I chose had flattering proportions in relation to my existing items. I try to determine this by splitting my frame into thirds in my imagination. For example, I did this when I chose to purchase a knee-length pencil skirt to pair with my cropped sweater.
Hems and Necklines - When selecting pieces from my existing wardrobe, I tried to stick to higher necklines and knee-length or longer skirts, which make even causal pieces feel professional. Most of the clothes I pulled from my closet actually were weekend wear, but I was able to integrate them into my work wardrobe.
Interest - I wanted to look professional, but not boring - so I tried to add interest to my outfits by selecting conservative shapes with funky texture or patterns.
Layers - My commute involves a lot of walking so I needed layers to deal with warm temperatures outside. I had a few sleeveless tops, so I bought a couple of jackets to make them office-appropriate.
Details - Look for traditional pieces with small but surprising details like buttons along a sleeve, or an interesting fabric.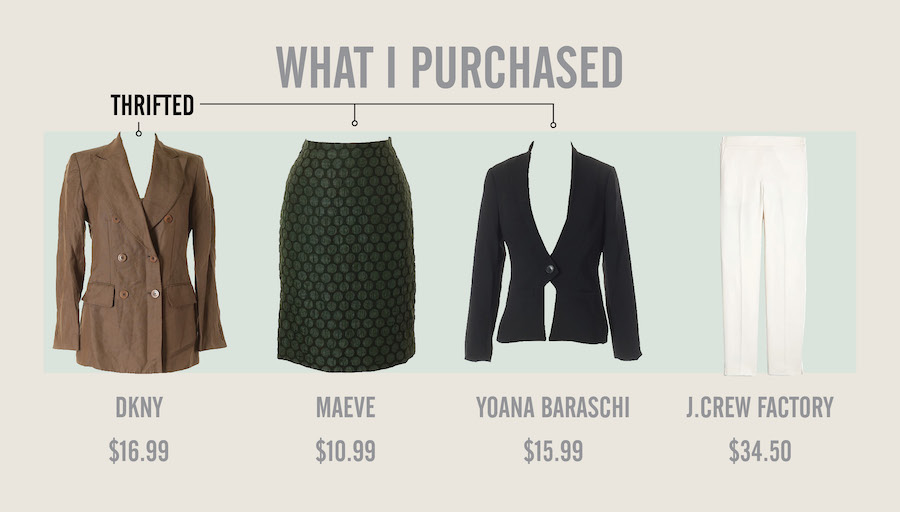 I spent $78.47 on the four pieces I added to my wardrobe. The white pants were from J.Crew Factory, but my biggest savings came from my three items from ThredUp. Their search function made it easy to browse. I found two beautiful blazers and a pencil skirt. Everything looked brand-new and I was able to buy high-end pieces that would have cost hundreds if they were new.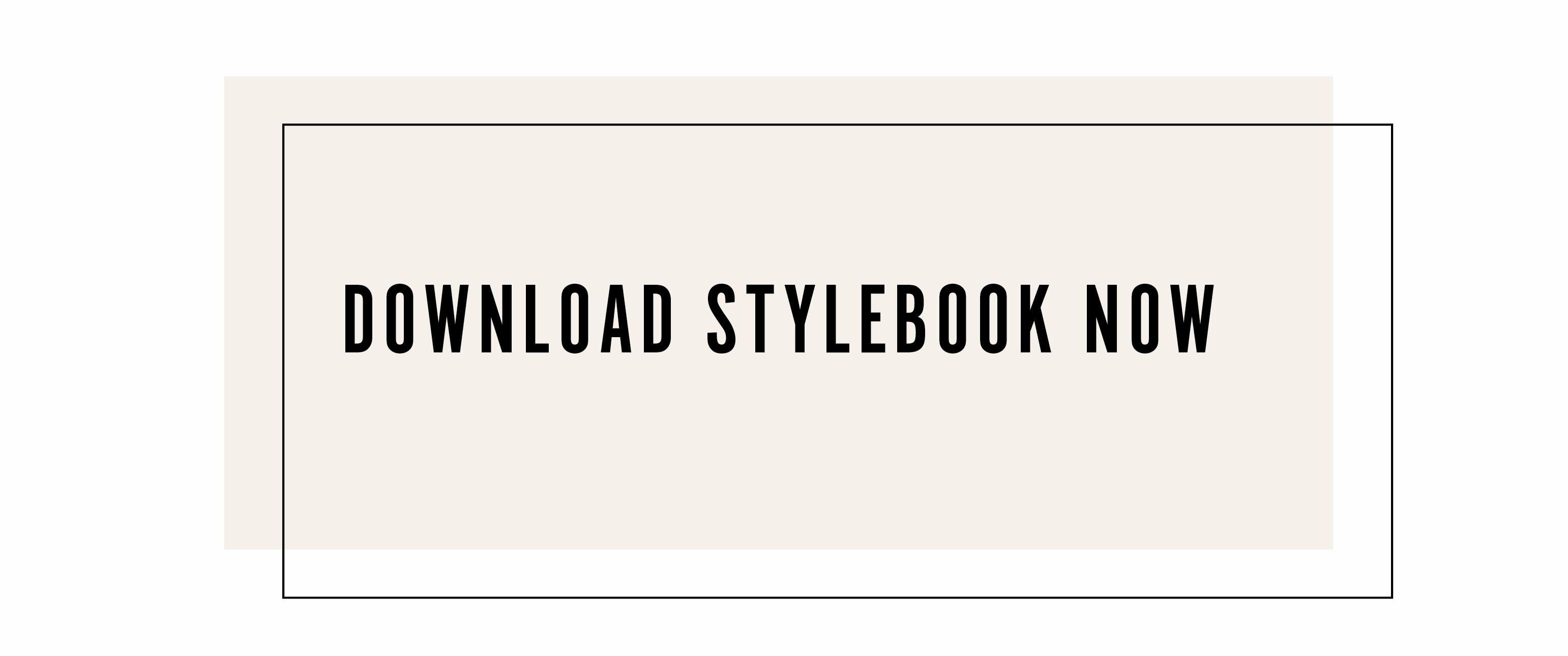 4. Create Outfits
The key to making my capsule wardrobe work is saving my ideas with Stylebook when I feel creative. I find I get way more wears out of my clothes when I keep a record of my favorite looks.
Below are the outfits I collaged in Stylebook using photos of my real clothes: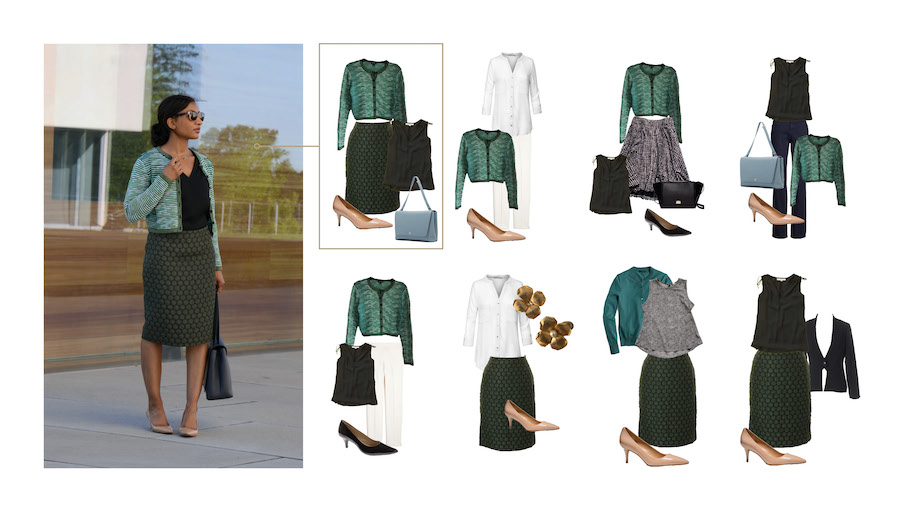 How to mix and match clothes to get the maximum number of outfits:
I save my initial ideas as soon as I think of them. For example, I saved my "green pencil skirt with green top" outfit as soon as I saw Megan Markle wearing a similar combination. I knew right away I'd want to try it as an outfit and made a collage before I forgot.
I matched every bottom to every top inside Stylebook and saved my favorites.
I used Outfit Shuffle to see if I could squeeze out a few more ideas. It came up with a few good new ideas with just a couple of shuffles!
I searched online sources to get styling inspiration. Basically, I just typed in something like " brown blazer" or "green pencil skirt" into a variety of websites like Pinterest, Instagram and even clothing websites like Net-A-Porter. I didn't copy the look exactly, but I used the ideas to guide my proportions and accessories.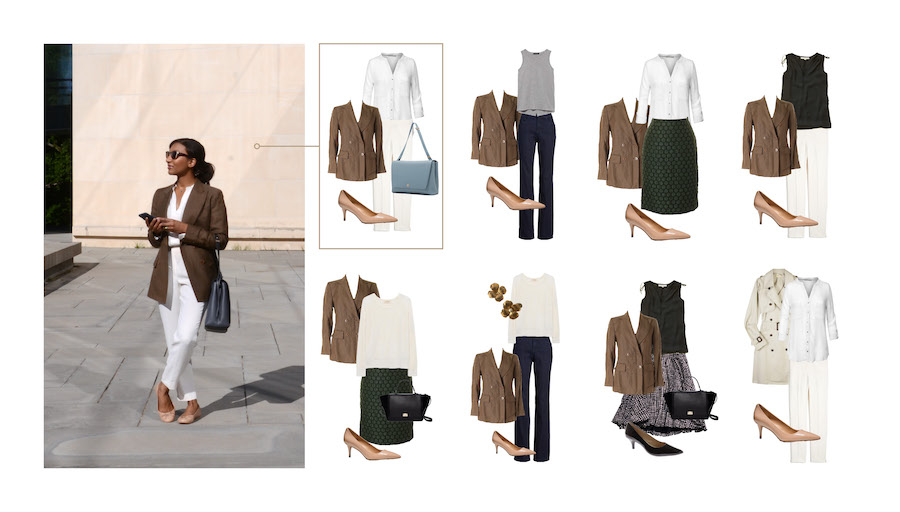 Outfit Recipes to Try:
Wear bold jewelry with a basic outfit
Pair items with the same color but different textures
Pair a pullover sweaters with your skirts
Wear a contrasting blazer over a monochromatic outfit
Try a long blazer with bootleg pants and heels
Style a monochrome outfit by wearing a top in a lighter shade of the color of your bottoms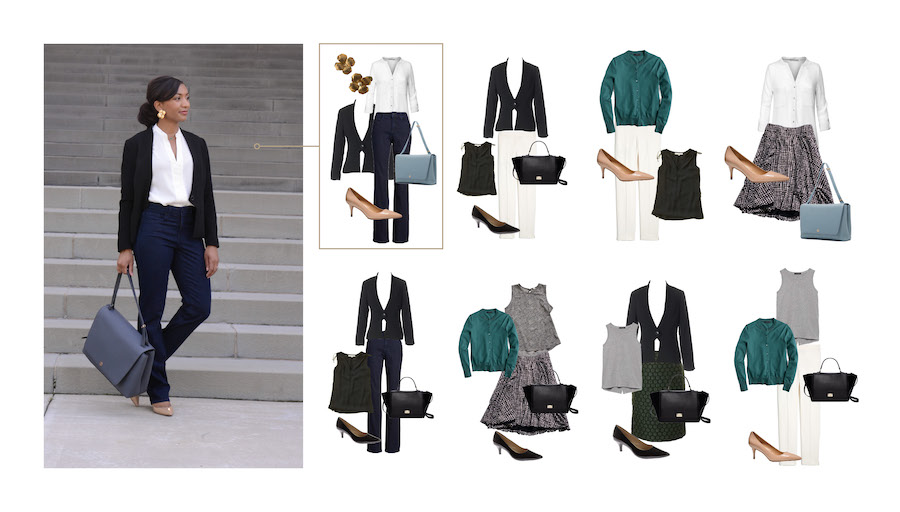 5. Plan Outfits for the Week
Once I had all my outfits saved, I scheduled what I'm going to wear on the Stylebook calendar. I usually schedule my outfits one week in advance. This is the secret to maximizing my wardrobe: I use Stylebook's outfit calendar to space out my looks so I can repeat pieces or outfits frequently without feeling bored. Otherwise, I wind up wearing the same couple of looks over and over, which usually leads to unnecessary shopping.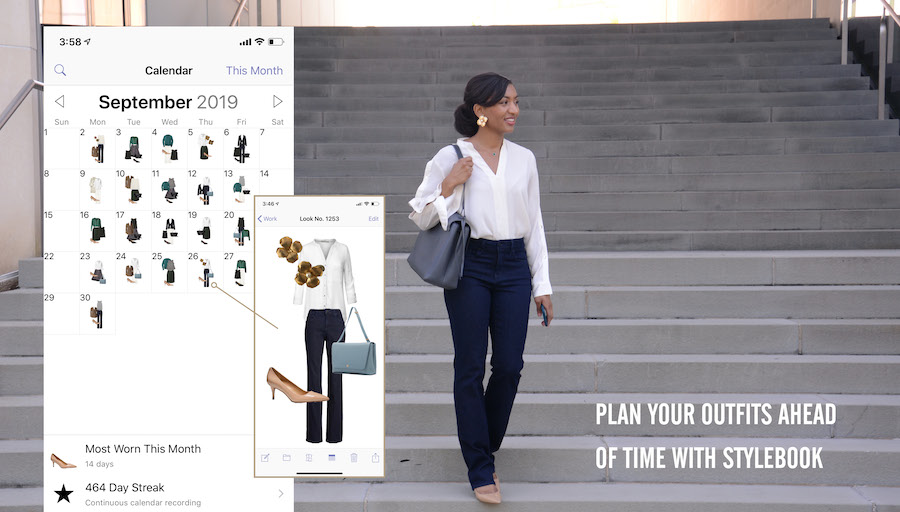 My favorite ways to plan outfits:
Weekend Planning - I like to sit on the couch on Sunday evening and plan what I'm going to wear for the week. That way, I don't have to think about my outfit at all during the week.
All Outfits for a Single Item - Sometimes, I feel like wearing a certain top or skirt. I open it in the Stylebook closet feature and look at the notes screen to see all the outfits I've ever saved that use that item.
Remix on the Spot - If I don't like any of my existing outfit choices, I make some new ones with Outfit Shuffle. I open a specific clothing item in the closet feature and tap the Outfit Shuffle button to see if Stylebook can make any interesting new combinations.
Accessories Swap - Certain outfits can be paired with a variety of shoes and accessories, so I log the accessories separately from the outfit on the calendar. This allows me to swap them out whenever I like.
Logging Items Instead of an Outfit - If I skipped laundry day and I wind up wearing something I'm not that excited about, I simply log the individual clothing items on the calendar so I don't have to save the outfit.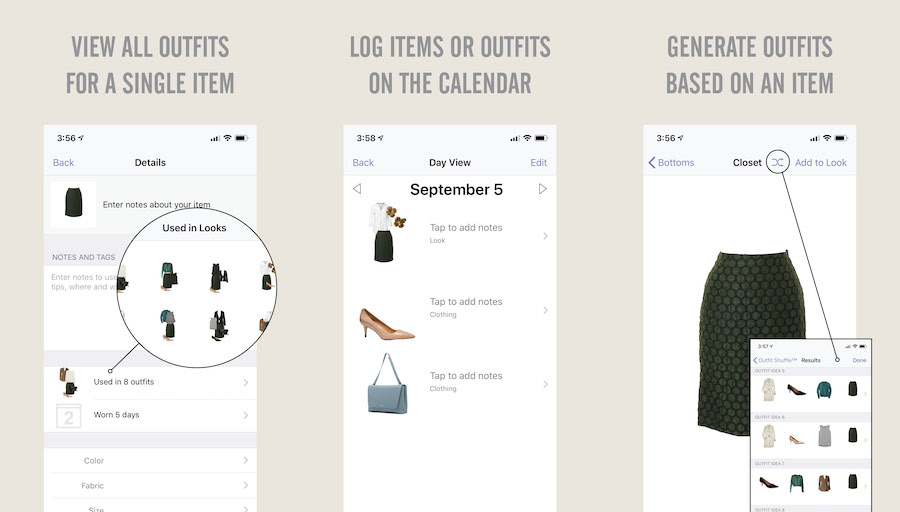 Dress Well Everyday - Save your outfit ideas for reference while you get dressed, thus avoiding accidentally putting together a terrible look because you were too tired at 5AM.
Use What You Have - Get a clear picture of the clothes you own, so nothing ever gets lost in your closet and you actually use what you have.
Reduce Stress - Avoid outfit-related stress every morning.
Pack for Trips - Make business trip packing lists, so you're ready for a work trip at any time (you can use the clone feature to slightly tweak lists for new trips)
Now you have everything you need to start your own work wardrobe and get dressed effortlessly everyday for the office!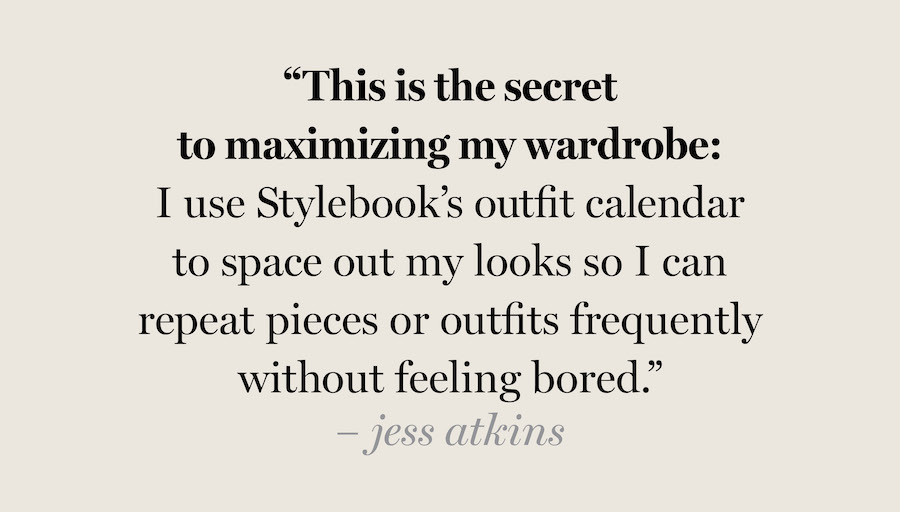 Clothing Checklist
Here's what's I already had in my closet:
pullover sweater
patterned cardigan
plain cardigan
white long sleeve blouse
black sleeveless blouse
grey sleeveless top
patterned sleeveless top
patterned full skirt
jeans
trench coat
beige heels
black heels
black work bag
colorful work bag
statement earrings
traditional blazer
oversized blazer
textured pencil skirt
white trousers

NOTE: Posts in the Style Guides series include affiliate links to some of the products discussed. Stylebook receives compensation for purchases made through links to affiliates.
GET THE APP
Read More Style Guides