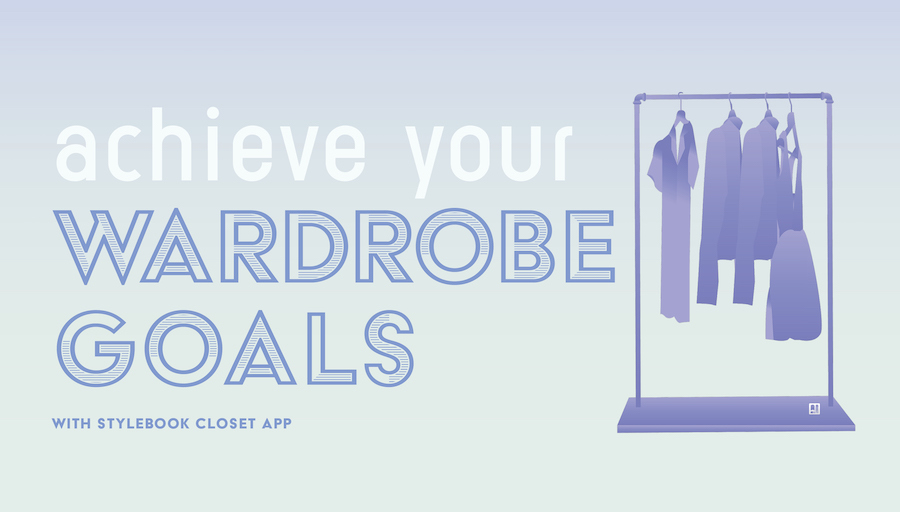 Wardrobe Goals: Six Fashion Challenges Solved with Stylebook
This is the year the Stylebook closet app can help you finally reach your wardrobe goals, free up more time when getting ready and get more out of your clothing budget and closet space. Here's advice on how to use some of the app's tools to conquer life's little challenges that seem to affect many of us who love clothes. Stylebook can help you establish a few habits that will improve your personal style. Keeping track of what you own, saving your best outfit ideas and collecting data on how you use your wardrobe can give you a big advantage when it comes to improving your style.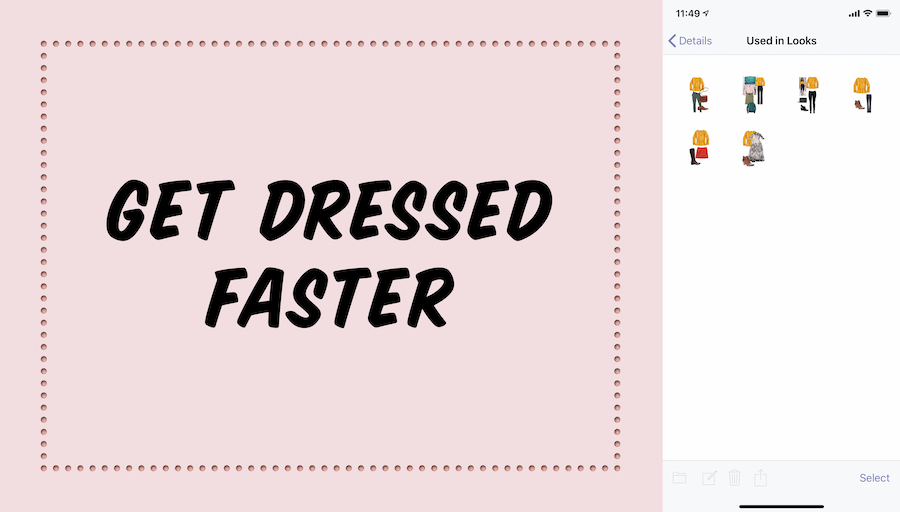 1. Short on time? Get dressed faster with saved outfits
You might not become a morning person, but Stylebook can at least make getting dressed in the morning a little easier. How does selecting an outfit from bed sound? Instead of having a battle with your closet every morning and trying on half a dozen outfits you hate, scroll through saved outfits you actually like on your phone - or have Stylebook make a new one for you! Staying in bed for five more minutes might not sound like much, but it beats digging through a closet for 20 minutes!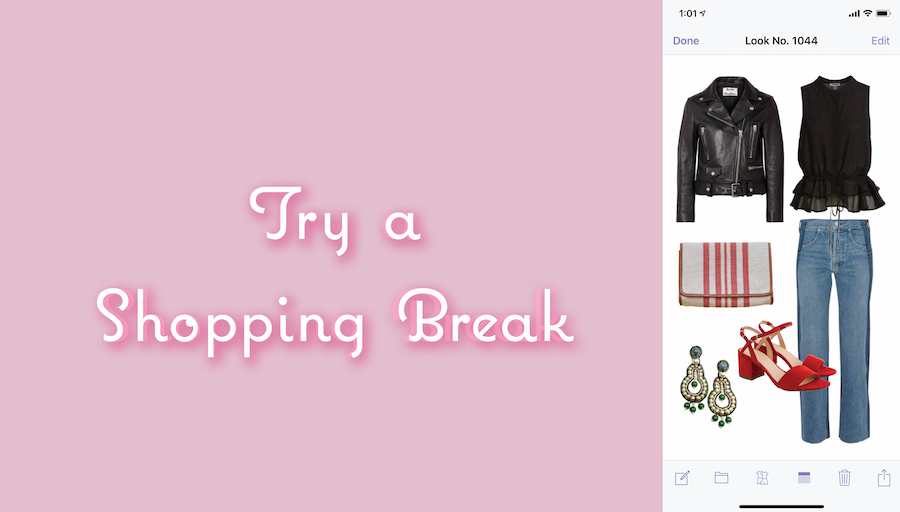 2. Spending too much on clothes? Try a shopping break
Limiting your clothes shopping may help you work towards your financial goals, but it's hard if you always feel like you have nothing to wear. Use Stylebook to catalog all of your great outfits so you can remember why you bought something in the first place. This is key if you want to avoid falling into the "I went shopping because I couldn't find anything to wear" trap. When you wear an outfit that gets tons of compliments, save it to Stylebook so you can wear it again on days when you're drawing a blank while staring at the closet.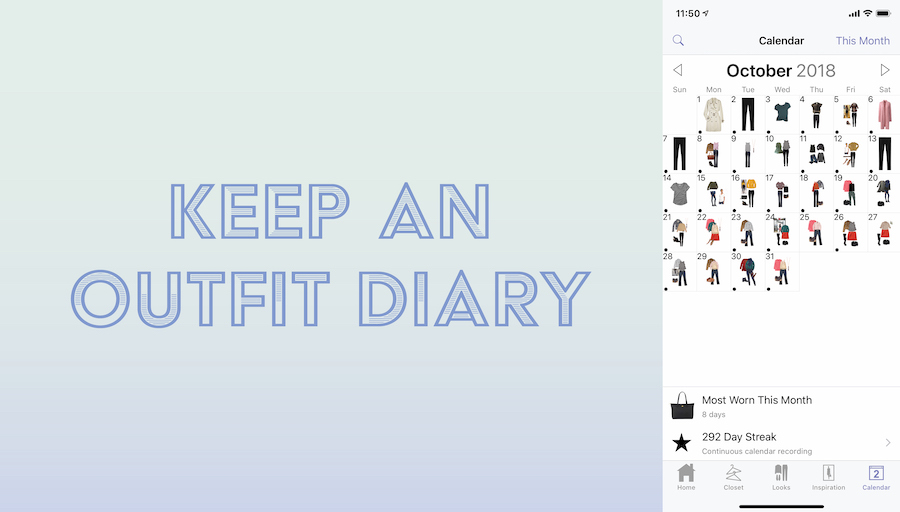 3. Want to wear a good outfit every day? Keep an outfit diary
Challenge yourself to record your outfit every day, then use your wardrobe statistics to learn what you wear the most and least. You may not wear your favorite shirt quite as much as you think, information that might inspire you to get more use out of it! You can add searchable notes to each calendar date so you can avoid repeating outfits with the same crowd (I love this for parties and meetings). In addition, it's fun to challenge yourself to a 365-day outfit calendar streak, or to track the cost-per-wear (CPW) for your favorite items. I try to get my CPW to under $1.00 for everything I own. My best is a $0.19 CPW for a t-shirt from Abercrombie. Stylebook automatically tracks your calendar streak and can give you an optional reminder to alert you to record your outfit at the end of the day.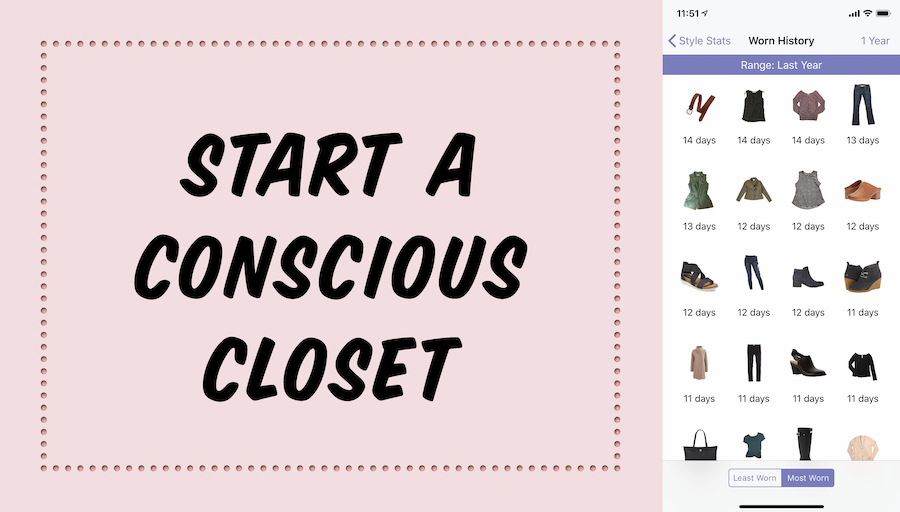 4. Starting a conscious closet? Get more wears out of what you own
"Start" doesn't mean replacing your whole wardrobe at once. Working towards a wardrobe of ethical brands is an amazing goal, but don't chuck out all of your current clothes - that's wasteful in itself. In our opinion, one of the most important things you can do is to actually wear what you have and mend your clothes until they truly need to be replaced. Check the wear count for your items to strive to get at least #30wears. Many people get tired of their clothes long before they wear out! Luckily, Stylebook can help you get creative with your wardrobe by giving you tools to create and save outfit ideas. Find style inspiration in the real world and then search your Stylebook closet for pieces to recreate the look. I love to do this with Pinterest or with catalogs, and it's actually stopped me from buying clothes I already have. Another tip is to use the Outfit Shuffle feature to have Stylebook suggest new outfits from your current closet that you might not have thought of.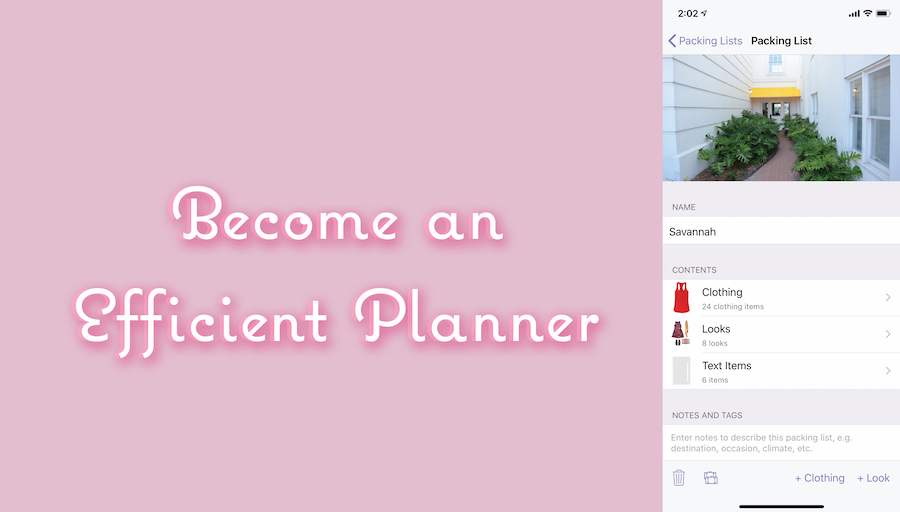 5. Want to become an efficient planner? Use any spare moment to save outfits
Keeping your outfits and closet on your phone with Stylebook means you can take advantage of little free moments throughout the day to plan your outfits for the next week or for an upcoming trip. Schedule what you're going to wear in advance with the Stylebook calendar feature. You can add complete outfits, individual clothes or a combination of both. If you're going on vacation, you can use Stylebook's built-in packing list feature to plan the packing list without being anywhere near your closet. To get really efficient, add your outfits to the packing list first and the app will automatically generate a list of the clothing items you'll need to bring. Packing by outfit is the best way to ensure every item you bring has a purpose and isn't just wasting space.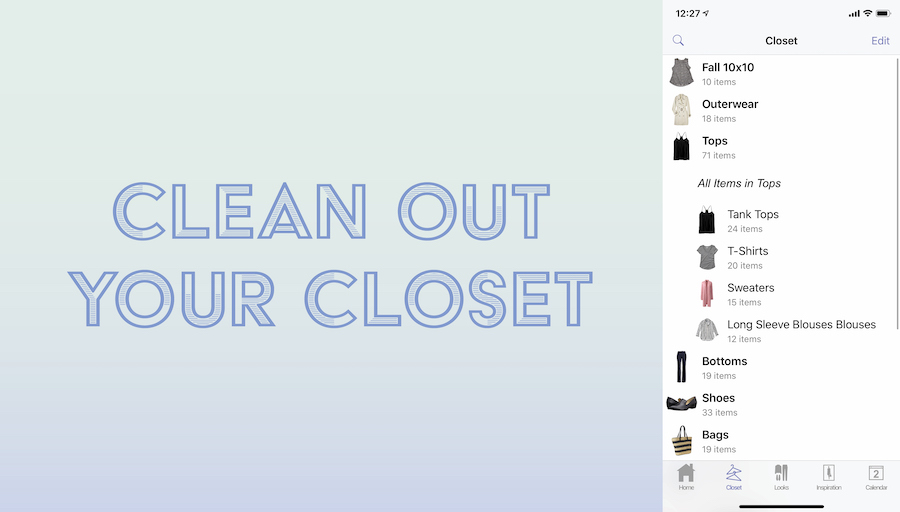 6. Need to clean out your closet? Analyze what you have
If your real-life closet is bursting at the seams, then this is the perfect time to clean out your wardrobe and start a Stylebook inventory. As you inventory your clothes, prioritize in-season clothes that fit and are in good condition. (Add images from online so you don't have to photograph everything!) Purge out-of-date, ill-fitting, worn-out, duplicate items and pieces you haven't worn in years. Who needs 10 pairs of black pants? I'll answer that for you - no one. Well, maybe Sofia Coppola. I get that you may need variety for casual and special occasions, but be honest with yourself. I'm not saying you have to become a minimalist, but be realistic, there are only 365 days in the year so you don't need 500 pieces of clothing. Keep the best and donate the rest!
If you already have the app and have been using it for a while, use the stats to help you decide what to keep and what to purge. Check out your "Least Worn" items and challenge yourself to get them off the list by wearing them more, if they're still there in 6 months, consider donating them.
Ready to get started? If you don't already have the app, download it today!
NOTE: Posts in the Style Guides series include affiliate links to some of the products discussed. Stylebook receives compensation for purchases made through links to affiliates.
GET THE APP
Read More Style Guides